Cell Phone Reviews
Welcome. Here you will find cell phone reviews, mobile phone news, and our wireless shopping guide.
Cell Phone Shopping
Shop for cell phones
Advertisement

Cell Phone Reviews and Mobile Phone News
Read about the latest news updates, from apps for the Nokia Lumia 710 to updates on AT&T's Gingerbread system


11/16/2018 04:58 PM
Verizon Prepping RCS Text Messaging for Early 2019 Launch

Verizon Wireless plans to roll out support for RCS messaging in early 2019, according to Aparna Khurjekar, SVP of consumer products at Verizon. Google has been pushing the RCS standard on carriers for several years. RCS is the next-generation messaging system that was designed by the GSMA to provide media-rich messages, including read receipts, video calls, and group chats, to Android devices around the world. Carriers, however, are the linchpin, as they must support it on the backend. In the U.S., Sprint and T-Mobile announced support for RCS earlier this year, and each is in various stages of deployment. AT&T supports a version of RCS, though not the Universal Profile, which is what makes RCS work across carriers. Verizon hasn't said if it will support the Universal Profile, nor has the company said exactly when it will launch RCS. Verizon already offers a media-rich texting app called Message+ to its customers. It's not clear if Verizon will add RCS to that app, or launch a brand new app.



11/16/2018 10:43 AM
Verizon App Supports Up to 5 Separate Numbers On One Phone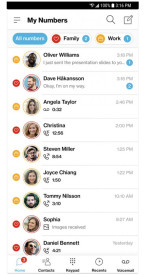 Verizon Wireless today introduced a new application called My Numbers that lets any single phone use up to five distinct numbers. The app is available to Android and iOS devices. Customers who want or need to manage multiple numbers can add them to the app, where each will have its own voicemail inbox and SMS inbox. Each number added to the app costs $15 extra per month. The service uses software to mimic the idea of multiple SIMs in a single phone. My Numbers is available now.
11/16/2018 08:50 AM
Senators Probing Carriers Over Video Throttling Claims
Recently published research suggests the four major wireless carriers are throttling video traffic and three Senate Democrats want to know what's going on. Senators Edward Markey (Mass.), Richard Blumenthal (Conn.), and Ron Wyden (Ore.) sent letters to AT&T, Sprint, T-Mobile, and Verizon Wireless about the allegations with a demand for a formal explanation from each. "All online traffic should be treated equally, and internet service providers should not discriminate against particular content or applications for competitive advantage purposes or otherwise," said the senators in their letter. The Wehe testing platform showed that AT&T throttled NBC Sports, Netflix, and YouTube; Sprint throttled Amazon Prime, Netflix, Skype Video calls, and YouTube; T-Mobile throttled Amazon Prime, NBC Sports, and Netflix; and Verizon Wireless throttled Amazon Prime, Netflix, and YouTube. T-Mobile also engaged in boosting, which provides unthrottled video streaming for a short time before eventually throttling it. Carriers' usage policies may allow for some throttling or down-graded resolution, and, due to the loss of net neutrality protections, current law does not explicitly prohibit throttling. However, the law does say that carriers have to disclose their throttling policies, if any exist. In this case, it's not clear if any of the carriers have specifically stated that they'll throttle the aforementioned apps and services. AT&T disputed the research and Sprint told Ars Technica that it does not "impose any restrictions on VoIP traffic or VoIP services." The carriers have until December 6 to answer the senators' questions.
11/16/2018 08:16 AM
T-Mobile Suggests Sprint Merger May Wrap Up In Early 2019
T-Mobile CFO J. Braxton Carter believes the company's planned deal with Sprint could close during the first quarter of 2019. The proposed merger is still being weighed by the FCC and Department of Justice. "The only remaining thing that is happening is depositions with the DoJ, which have started and will be completed in a few weeks," said Carter at a technology conference. The two companies proposed the merger in April and initially expected it to close during the first half of 2019. A key facet of the deal is 5G. Carter says the merger is needed for the two companies to compete with market leaders AT&T and Verizon. "The combined assets of Sprint and T-Mobile can create 8 times the 5G capacity that either of us could do on a standalone basis and 15 times the speed," noted Carter. If the government allows the merger to move forward, the U.S. will drop from four national carriers to three. Some say this will reduce competition, which could lead to higher prices for consumers. Neither the FCC nor the DOJ has made any official statements on the deal.
11/15/2018 03:25 PM
Google Wear OS 'H Update' Further Tackles Battery Life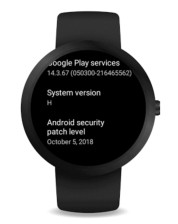 Google today revealed that a small system update will reach Wear OS-based devices over the next few months. Wear OS Version H focuses on fine-tuning battery performance. For example, an update to battery saver mode will force the watch to only display the time once the battery reaches 10%. After 30 minutes of inactivity when a smartwatch isn't being worn, Wear OS watches will automatically go into a deep sleep mode to conserve power. Google says Wear OS watches should be easier to turn off thanks to a new, two-step power down routine. Last, Google is extending Smart App Resume to all apps. This will let watch wearers pick up where they left off across all apps on their watch. Google says Wear OS Version H may take several months to reach all devices.
11/15/2018 02:32 PM
Verizon Prepaid Debuts the Orbic Wonder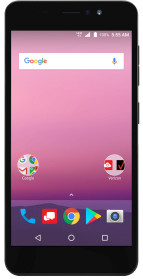 Verizon Wireless' prepaid unit today added the Orbic Wonder to its lineup of inexpensive phones. The Wonder features a 5.5-inch full HD screen that is protected by Asahi Glass. The phone is power by the Snapdragon 430 processor with 2 GB of memory and 16 GB of storage. It supports microSD memory cards up to 256 GB. The main camera has an 8-megapixel sensor with flash. Verizon did not list the user-facing camera's specs. The phone has an embedded 3,000mAh battery. The Orbic Wonder, made by Reliance Communications, costs $99.99 and is available online.
11/15/2018 02:07 PM
AT&T's Secure Family App to Replace Smart Limits for Managing Family Phones
AT&T plans to cease offering AT&T Smart Limits, a service that allows parents to control their kids' phones, on November 26. Smart Limits will no longer be available after that date. In its place, AT&T is launching AT&T Secure Family. The new app and service has more features, a simpler user interface, and lets parents manage more phones at a lower price. AT&T Secure Family includes live location tracking and detailed location history for each family member. Parents can set up arrival and departure alerts, such as when kids leave school or arrive home. Parents can also schedule location updates that are sent automatically throughout the day. Secure Family includes content and usage controls. Parents can pause access to the internet, such as at bedtime, filter and block apps and online content based on age, set time limits for kids' daily internet access, and prevent kids from making purchases on the iTunes App Store or Google Play Store. AT&T Secure Family is available to iPhone and Android devices and costs $7.99 per month to manage up to 10 lines.
11/15/2018 01:46 PM
SIM-Free iPhone Xr Now Available from Apple
Apple has made the SIM-free variant of the iPhone Xr available from its web site. The phone ships unlocked and without service from any wireless carrier. People who buy the phone will need to use an existing SIM card or purchase one separately. The SIM-free iPhone Xr is compatible with most U.S. networks. Pricing starts at $749, which is the same as the carrier versions.
11/15/2018 01:35 PM
Instagram Ramps Up Shopping Tools Ahead of Holidays
Instagram has integrated shopping deeper into its mobile app. The latest version of Instagram, which people use to share photos and videos, adds a shopping collection, or a way for people to save potential purchase items for later. People can return to the items they've saved via their profile. The company is testing a redesign of the Shop tab that appears on business profiles. The idea is to let people quickly see all the products from that retailer as they appear in Instagram posts/stories. Instagram says this is a good way to browse all the products from a single company at once. Last, Instagram has made it possible for people to shop from feed videos. A new shopping icon will appear in the bottom left corner of videos that contain products. Tapping the icon will open a page with details about that specific product. The new version of Instagram will reach Android and iOS devices over the next few days.
11/15/2018 11:34 AM
FCC to Let US Phones Access Galileo for Improved Positioning
The FCC today cleared the way for U.S. consumers and businesses to use the European Union's Global Navigation Satellite System (GNSS), known as Galileo. Galileo is available globally. Today's action means devices in the U.S. now have permission to access select Galileo signals to improve location accuracy. Devices that gather information from both Galileo and the U.S. GPS system will improve the availability, reliability, and resiliency of positioning, navigation, and timing services across the country. The Order approved access to two Galileo frequencies, E1 (1559-1591 MHz) and E5 (1164-1219 MHz), both of which fall in the Radionavigation Satellite Service (RNSS) frequency bands. Many of today's smartphones already include support for GNSS/Galileo. It's not clear how quickly the Order will go into effect, nor is it clear if U.S. consumers will need to install new software or perform some other action to access the EU's satellites.
11/15/2018 10:03 AM
Kyocera's DuraForce Pro 2 Brings Rugged Performance to Verizon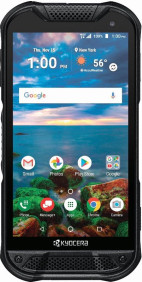 Kyocera and Verizon Wireless today announced the DuraForce Pro 2, a ruggedized smartphone that targets construction and public safety workers. The DuraForce Pro 2 is fully ruggedized thanks to its hard rubber exterior, meeting the mil-spec 810G rating. It can withstand drops, shock, vibration, radiation, temperature extremes, blowing sleet/rain, and high elevations. An IP68 rating means the DuraForce Pro 2 can handle submersion in up to 5 feet of water for up to 30 minutes. Kyocera says the DuraForce Pro 2 can be used around harmful vapors without fear of sparking a fire. The phone features a 5-inch full HD display that's protected by Kyocera's Sapphire Shield, which is scratch proof. It is powered by a Snapdragon 630 processor with 4 GB of memory and 64 GB of storage. It supports microSD memory cards up to 512 GB. The DuraForce Pro 2 has powerful front speakers that produce 106dB of sound. Four noise-cancelling mics ensure that PTT calls, speakerphone calls, music, and other audio is loud and clear. The main camera has a 13-megapixel sensor and features such as wide 135-degree field of view, underwater mode, slow motion, time lapse, and automatic scene detection. The phone also has a 5-megapixel front camera. Programmable keys let users launch select apps, such as PTT or the camera, at the press of a button. The phone has a 3,240mAh battery that supports rapid charging and wireless charging. A fingerprint reader is built into the power button on the side. The Kyocera DuraForce Pro 2 costs $444, or $18.50 for 24 months. It is only available online.
11/15/2018 09:00 AM
Review: OnePlus 6T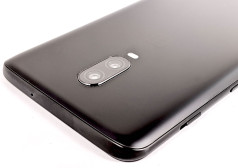 The 6T from OnePlus is among the first wave of phones to put the fingerprint reader under the display. With a svelte glass-and-metal design, huge screen, high-capacity battery, and reimagined cameras, the OnePlus 6T offers a lot of phone for far less than competing flagships. If you want a classy device that gets the job done while saving you hundreds of dollars, the 6T could be it. Here is Phone Scoop's in-depth review.
11/15/2018 08:35 AM
Google Says It Is Making Progress with Project Treble
Google believes the initial adoption of Android 9 Pie will be quicker than the initial adoption of Android 8 Oreo thanks in part to Project Treble. Google launched Project Treble in 2017 with Oreo in an effort to speed up phone makers' ability to push system and security updates to users. Since then, Google has worked with its hardware partners to create a Generic System Image (GSI), drawn directly from the latest AOSP build, and what it calls Vendor Interfaces. These delineate a clear boundary between the partner's code and Google's code. Google's code can be updated via the GSI rapidly and independently of the vendor code. Moving forward, Google says all devices that launch with Android 9 Pie will be Treble-compliant and can take advantage of swifter system upgrades. It is this that gives Google the confidence to predict that more devices will be running Pie at the end of 2018 than were running Oreo at the end of 2017. Developers can use the GSI, too, which will always be based on the most up-to-date version of Android, to test their apps. This should let developers adapt to new Android builds at a faster rate.
11/15/2018 08:20 AM
Yahoo Relaunches Comprehensive Android and iOS Apps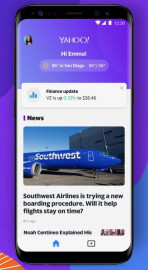 Verizon Media Group has launched a brand new version of the Yahoo mobile app. It combines all facets of Yahoo's online services in a single space. The app ties together separate services such as Yahoo Mail, Yahoo Sports, and Yahoo Finance, as well as various pieces of Yahoo's main web page. Users who create profiles and sign in can customize the app to show them local news and weather, local sports and highlights, as well as top news stories, stocks, daily deals, video content, and search. A separate tab called Watch contains the latest and most popular video on the web, curated by Yahoo's editors. Yahoo says app users will be treated to a "Deal of the Day" from partners during the upcoming holiday season, which delivers savings on potential gift items to Yahoo inboxes. The new Yahoo app is free to download from the iTunes App Store and Google Play Store.
11/15/2018 08:09 AM
Google Maps Makes It Simple to Message Businesses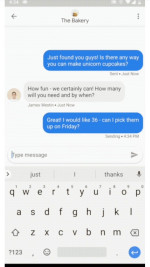 Google has made it easier for people to connect with businesses through Google Maps. Google has allowed Maps users in select countries to message businesses through the Google Maps app itself. This is intended to help when it might be inconvenient to call the business directly. Google is expanding the availability of this feature to more countries. Further, Google is now saving those conversations in Google Maps so they can be revisited if users need to re-start the thread. At the same time, Google released a new app for businesses, called Google My Business, which lets businesses easily set up and manage the ability to message customers. Google didn't say to which countries Map messaging is being extended.
11/14/2018 05:33 PM
Microsoft Rolls Out Refreshed Cortana App for iOS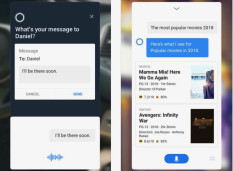 Microsoft today dropped a rebuilt version of Cortana for iOS devices. Cortana is similar to Siri in that it can perform actions based on voice requests. Microsoft says the new Cortana is less robotic and more conversational. This helps interactions feel more natural. The app can be used to set up and manage Cortana devices, listen to music and podcasts on the go, and stay on top of tasks, reminders, and to-dos. Cortana for iOS also integrates with other Microsoft services more tightly, such as Skype and Teams, email and calendar. Cortana is free to download from the iTunes App Store.
11/14/2018 12:54 PM
FCC Kicks Off Auction for High-Band 5G Spectrum
The FCC today began auctioning off licenses for a total of 1.55 GHz of spectrum that's earmarked for 5G mobile service. Two auctions are on deck. Auction 101, which commenced today, includes two 425 MHz blocks in the 28 GHz band that are being made available on a county basis. Auction 102 for 24 GHz spectrum will begin immediately after Auction 101 concludes. The 24 GHz auction includes seven 100 MHz blocks of spectrum. These two auctions will be followed by another next year that covers three mmWave spectrum blocks at 37 GHz, 39 GHz, and 47 GHz. Wireless carriers are expected to bid on these spectrum licenses and eventually use the airwaves for mobile 5G service.
11/14/2018 12:38 PM
Google Turns On the Night for Pixel Phones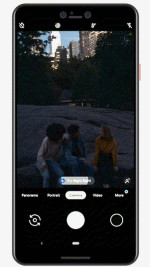 Google says all three generations of Pixel phones will soon be able to take advantage of Night Sight, Google's new low-light photo feature. Night Sight uses several techniques at once in order to improve the chances of capturing a successful shot in dark environments. Night Sight continually adapts to the movement of the Pixel phone and the surrounding light. The software is able to measure hand shake and motion in the scene to find the right exposure. Google says when the Pixel is held still, Night Sight will take longer exposures to minimize noise, but if the subject is moving Night Sight will use shorter exposures to minimize blur. Night Sight can compensate for some amount of motion in the shot by firing off a burst of photos and then merging the results to provide a bright, sharp photo. Night Sight also uses machine learning to balance color and create true-to-life images. Pixel phones will automatically suggest Night Sight when they detect low-light conditions, though users can also turn the feature on manually. Night Sight will be rolling out over the next few days through an update to the Google Camera app.
11/14/2018 09:42 AM
Google Assistant's Latest Powers Target the Smart Home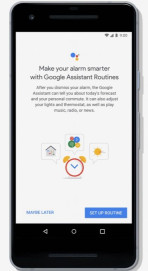 Google is adding a wide range of features to its AI-powered Google Assistant that focus on improving the experience at home. First, family members will be able to respond to broadcasts. The broadcast feature lets people send a voice message to their Google Home speakers or video displays from their phone. Until now, broadcasts have been a one-way feature. Moving forward, people who receive broadcast messages via Google Home speakers/displays can reply. The reply is transcribed and sent to the original broadcaster as a notification. Next, Google Assistant is targeting in-home chefs. Smart display users will now see recommended recipes on an info card. The recommendations will be based on previous recipe searches. Google says recommendations will be updated regularly based on the season and time of day. Users will be able to save their favorites for easy referencing. Alarms just became more fun for kids. Google Assistant can now set up alarms based on popular animated characters that include signature music, jokes, and other messages. The Read Along feature is being improved with more sound effects and music from select books, and the Assistant itself can read any of 25 family-friendly stories upon command. Google Assistant now hooks into more smart TVs from the likes of Panasonic and LG. It can provide a Home View dashboard for controlling media and entertainment devices. Podcast lovers have new control over playback speed. Last, Google is bringing routines to the clock app for Android phones. For example, after the user dismisses the alarm, Google Assistant can immediately begin a routine, such as reading the news, providing a weather or traffic report, or turning on pre-set lights. On the flip side, Assistant can turn on do not disturb mode on all devices with a single command. Google says these features will roll out slowly to Google Home speakers, smart displays, and Android phones over the coming weeks.
11/14/2018 09:12 AM
AT&T CEO Bemoans Rise of State Net Neutrality Laws
Randall Stephenson, CEO of AT&T, wants Congress to prevent states from enacting their own net neutrality and privacy laws. "There are a number of states that are now passing their own legislation around privacy and, by the way, net neutrality." Stephenson made the comments in a video interview with the Wall Street Journal. "What would be a total disaster for the technology and innovation you see happening in Silicon Valley and elsewhere is to pick our head up and have 50 different sets of rules for companies trying to operate in the United States," said Stephenson. The Obama-era FCC created a national net neutrality policy that was later torn down by Trump's republican-led FCC. In the wake of that action, individual states have promised to create their own legislation to protect net neutrality. California was among the first to approve such legislation, though it won't put its new laws into effect until litigation against the FCC works its way through the courts. Stephenson believes Congress should act to keep the states from creating a patchwork of rules that could tangle AT&T and other internet providers in a sticky web of compliance. Stephenson does agree with one core tenet of net neutrality: "There should be no blocking," he said, and ISPs "should not be allowed to throttle somebody else's content." He said nothing about paid prioritization or zero-rating.
Advertisement