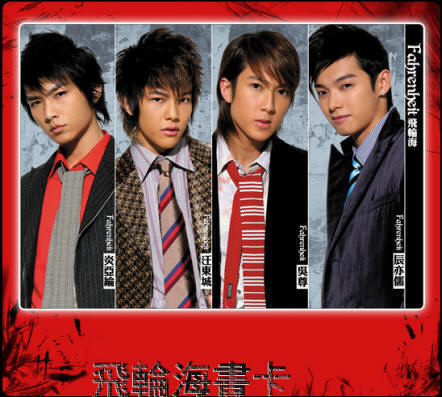 Following the steps of "The Rose", Ke Mi once again cooperate with Hua She Music Company, forming the new male group "Fahrenheit". The four members of the group each have their uniqueness. With their gorgeous looks, they all simultaneously had past experience in being 'noticed' by the same sex. Not only did they get sexually harassed by their boss when they were working (touching their bottoms), their photos had always been stolen and used - put onto gay sites, and caused them some trouble because people would misunderstand and try make a convo with them on the streets.

Fahrenheit includes fun-loving, carefree Jiro Wang; Calvin who has the gentle smile, Wu Zun with the gentlemanly attitude, and Aaron with the electrifying eyes. Although they are all different to one another, all four of them agree that in private they're all very humorous.

Jiro Wang, with the most experience say that, although he's busy with acting and singing careers at the same time (his throat was infected), he will still co-sing with the others to his best. He states that he will cherish the friendship they share amongst the four of them in the group.

The four of them are showing their faces in the new series "Ju Ji Yi Ban (KO One - i think)", and int he soundtrack of the series, they cooperate amongst themselves and produced two songs. This includes 「一個人流浪」 (Yi Ge Ren Liu Lang) in folk rock style, and 「孺子可教」 (Ru Zi Ke Jiao) in R&B style, a preparation for their debut album to be released in summer.
Fei Lun Hai Profile

Name: Calvin
DOB: 1981/11/10
education: Wen Ge Hua university, post graduate degree i think?
Canada's "Sunshien Boyz 2004" winner... i don't get the second part o.O
--
Name: Wang Dong Chen
nickname: Jiro
DOB: 1981/8/24
star sign: virgo
blood type: O
height: 180cm
weight: 67kg
interests: serve other people (?)
talents: arts, creating stuff
size: 37/29/37 (ahaha i thought they only give this for the female celebs )
shoe size: 7.5
PS: appear cool on the outside, but is very passionate and humorous.

--
Name: Wu Zun
height: 183cm
weight: 74 kg
shoe size: 10
size: 40/31/38
hometown: Wen Cai (where he was a gym teacher)
he was also a model for Yi Lin
--
Name: Aaron
show biz name: Yan Ya Lun
also: Ah Bu
DOB: 1985/11/20
star sign: scorpio
blood type: O
height: 175cm
weight: 60kg
education: Wen Hua University, bachelor of News
languages: mandarin, english
hobbies: basketball, dance, sing, make friends, likes to joke
favorite group: Xin Le Tuan
fave male actor: Andy Lau
fave actress: Ariel Lin
fave male singers: Harlem, JJ lin
fave female singers: Lin Fan, Fish Leung
Featured Photos: Fei Lun Hai