Search
Related Articles
Sponsor Ad
Chinese Culture >> Chinese Food Articles >> Homestyle Japanese Cooking
Home style Japanese Cooking
By: Alison A
Besides tofu, bamboo shoots and soy sauce, Japanese chefs use a plethora of proteins, vegetables, spices and seasonings to create the balance of sweet, sour, salty and pungent that we Westerners find so irresistible.

But is it so mysterious? Many people don't even try Japanese Cooking at home because they think it requires specialized cooking equipment and exotic ingredients. The truth is, most (if not all) of the cooking equipment used in Asian cooking (woks, cleavers, rice cookers and chopsticks) can either be substituted with Western versions or purchased easily at cookware and department stores everywhere. Asian foods and spices are an arm's reach away at conventional, natural and specialty grocery stores.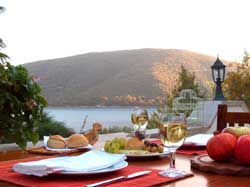 To bring exotic flavors and textures to my table on a daily basis for easy dinners and quick lunches, I use a simple Japanese Formula that can be used for anything from stir-fries and soups, to noodles and dumplings. As long as the basic ingredients are on hand, whipping up an authentic Japanese meal with healthy ingredients is as easy as 1-2-3. See Japanese Formula recipe, below.

Here's a list of some of the basic ingredients you'll want to have in your pantry of inspired Japanese cooking at home:

Soy Sauce, Tamari or Nama Shoyu - Tamari is a wheat-free soy sauce, and nama shoyu is a non-pasteurized soy sauce that many raw foodist use to replace tradtional soy sauce. Soy sauce should be stored in the refrigerator after opening.

Mirin - This is a sweet and gentle rice wine that is used to spark up flavors, just as one would use wine or vinegar in Mediterranean cooking. It can be found in the section with oils and vinegars. Mirin should be stored in the refrigerator after opening.

Toasted Sesame Oil - This is a very flavorful, roasted seed oil that is used in small amounts to enhance the flavors of Asian foods. It is a favorite of mine in gingery dressings and drizzled over Japanese soups and stir-fries. It can be found with the other oils in the oil and vinegar section, and should be stored in the refrigerator after opening.

Garlic-Ginger Paste - [get recipe] This is a simple, handy seasoning for a variety of Eastern dishes. You can measure tablespoonfuls into little zip-lock bags or pour the paste into ice cube holders for easy "grab and go" use. It can also easily be substituted with fresh minced garlic and ginger.

Hot Chili Oil - [get recipe] This clear red tinted oil is used as a seasoning for dips and stir-fries. It is not meant for cooking; it is usually drizzled onto food just before serving. It can be purchased at most natural foods stores and Asian markets, and can also be easily made from scratch at home. If you don't have the oil, sprinkle red chili pepper flakes onto the food as a replacement.
About the Author
Alison am a Certified Nutritional Chef, food writer and culinary instructor through Bauman College of Holistic Nutrition and Culinary Arts in Northern California. I teach cooking and nutrition classes through the Whole Foods Market Salud Cooking School and write a monthly eLetter, also entitled Whole Gourmet Natural Cooking, to a wide audience.