9/11/2009 HOUSTON – Humpty Dumpty gets set to have a great Fall in 2009, when bronze sculptor Kimber Fiebiger reigns as featured artist of Houston's nationally-ranked Bayou City Art Festival Downtown October 10-11. Fiebiger's stylized Humpty Dumpty characters, which flaunt such titles as "My Egg Benedict," "Bad Egg," "Over Easy" and "Big Guy" (see attached jpg.) range from delightful figurines that perch with legs crossed on coffee tables to rotund 250-pound violin-playing eggs fit for a pedestal.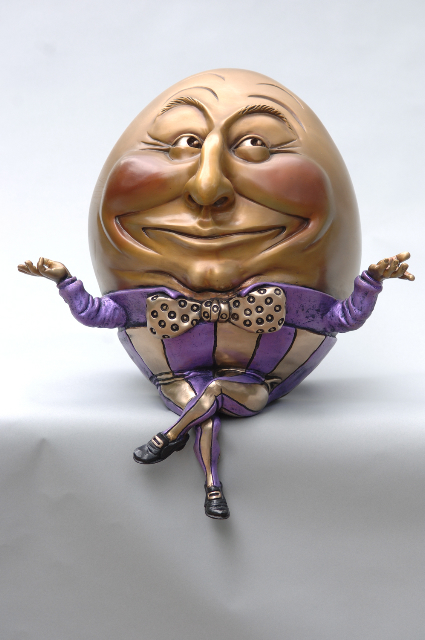 "Kimber Fiebiger made her mark at Bayou City Art Festival Downtown last fall by earning first place honors at her Houston debut. Many have also seen her works throughout David Burke Restaurant at the Venetian Hotel in Las Vegas," said Joe Pogge, board president of the Art Colony Association, presenter of juried Bayou City Art Festival Downtown.

Fiebiger is accustomed to cracking the glass ceiling -- or wall, as the case may be. The first in her family to express an interest in making art (her father was an electrician and her mother, a homemaker), she carved sculptures in the sand hills of her neighborhood for hours on end as a child. In high school, she took every art class she could. "I learned jewelry making, sculpture, drawing, photography and ceramics and only visited my first art museum when I was a teenager on a high school field trip," she remembered. "My favorite teacher was my ceramics teacher, who gave me a lot of attention."
The first in her family to attend and graduate college (BFA, University of Minnesota), Minneapolis born-and-bred Fiebiger signed up for bronze sculpting her sophomore year because "the class only had boys in it." She jumped into foundry work in 1978, when foundry work was not egg-alitarian. It was an 'all boys club,' she recalled disparagingly.

After graduation, Fiebiger worked steadily as a potter creating children's banks. "I started making Humpty Dumpty (banks) in 1982 after my two-year-old son, David, ordered, "Mommy, make me a Humpty Dumpty!" As she gained more confidence in her art, Fiebiger shifted back to bronze for her egg-headed designs, such as "Pickled Egg," "Good Egg," and "One Egg Waiting to Get Laid." "I think of the name first, and then create the piece," she says.

In addition to sculpture, the juried fine art festival will offer clay, drawing/pastel, fiber/textiles, furniture, glass, jewelry, leather, metal, mixed media, painting, photography, printmaking, sculpture, watercolor and wood media formats.
Bayou City Art Festival Downtown, framed by Houston's world-class skyline, it is a one-of-a-kind outdoor gallery with its highly acclaimed mix of visual, performing, culinary and interactive arts. Located in and around City Hall/Hermann Square, the Festival transforms Walker, Bagby and McKinney Streets into pedestrian promenades lined with artists' booths where patrons can interact with artists one-on-one. Other highlights include international food and wine cafes and Capital One Bank Creative Zone, where children can experience the fun of making art projects they can take home. Houston Arts Alliance performance stage offers continuous multi-cultural musical and dance shows and close-up art demonstrations.
A bevy of restaurants and wine cafes will offer American and international fare. New this fall will be the Epicurean Adventure presented by Houstonian Lite Health Club, with wine tastings and professional chefs' cooking demonstrations.
Tickets are $10 for adults and free for children 12 and under.
Advertisement