Jay Chou ( 周杰倫, Born Jan.18, 1979) is a popular Taiwanese musician and singer specializing in R&B and rap. Also known as the King of Chinese music, he is known for combining both Chinese and Western musical styles to produce a fresh sound that is quite unlike what is produced in mainstream Taiwanese pop, and also for his unique lyrics which touch on various issues. For example, in 爸我回來了 "Dad I am Back", domestic violence is mentioned, in 梯田 "Rice Fields", eco-awareness is mentioned, and in 止戰之殤 "Wounds of War", the destructiveness of war is mentioned. Jay's music is popular throughout Asia, most notably Taiwan.
Featured Artist:
Jay Chou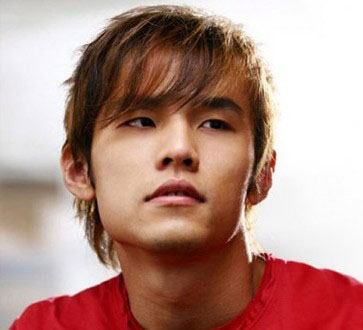 Jay was raised by his mother who was a teacher in a high school. Showing interest in music, he began learning to play piano at the age of 3. While he was a third-grade student in elementary school, he developed an interest in cello and had daily cello lessons. His mother took him to concerts to develop his taste for music. When he was 14, his parents got divorced; as a result, he became very independent, quiet and anti-social. Jay majored in piano and minored in cello in Dan Jiang senior high school. This provided him a great foundation of classical music.
Jay first entered the music industry when he appeared in a talent show as a pianist with his friend. Although their performance wasn't exceptional, the producer saw talent in the music composition written by Jay and decided to give him a chance. He was initially hired to write music for others, including Vivian Hsu and Jody Chiang. Although many of his songs became popular, most people were unaware that they were his creations.
In 2000, Jay was given his chance to produce an album of his own. He released his first album Jay, which, much to everyone's surprise, became an instant hit. It gained great attention in Taiwan as well as the international Han Chinese community. When his second album Fantasy was released, he was already among one of the top pop stars in the Asian community. His most critically and financially successful album as of yet is his third, Eight Dimensions.
Since entering the music industry, Chou has been romantically linked to an array of female celebrities, such as Jolin Tsai, Vivian Hsu, and Hebe from S.H.E. In February 2005, Chou was photographed with entertainment host, Patty Hou, shopping in Japan. After a splurge of media attacks, Chou allegedly admitted to being in a relationship with Hou. However, from May to July of 2006, both sides coldly stated, "I never said we were together." This has caused both fans and the media to speculate about the present status of the couple's relationship
More Jay Chou Photos