Wayne Lin Jun Jie ( 林俊杰) born on March 27, 1981 is more commonly known as JJ Lin. He is a Singaporean singer and songwriter of Chinese Fujian descent, and he came to musical prominence and success in the Greater China region, and particularly in Taiwan, where he was awarded the "Best New Artiste" award in the Taiwan Golden Melody Awards
Featured Artist:
JJ Lin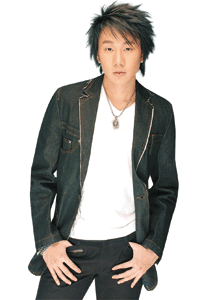 Signed to Ocean Butterflies, he has written songs for various artistes, notably Ji De (Remember) for Taiwanese singer A-Mei, and fellow labelmate A-do's Fang Shou
Back in Singapore, he was chosen to perform the remixed version of Home, the theme song of the National Day Parade in 2004. His career and notability began to rise astronomically in Singapore particularly with the aid of his music being used in television dramas produced by MediaCorp TV Channel 8, and his increased public appearances, such as being the guest performer in the finals of Channel U's Project SuperStar.
After winning the Gold award in the Best New Act category in the 2004 Singapore Hit Awards, he went on to sweep the 2005 edition with four awards to his name, including the Best Local Male Artiste, Best Composing Artiste, Best Male Vocalist and Best Local Music Composition awards, recognizing his talents both in the composition and performance aspects of his music. His latest album, Cao Cao, sold 2 million copies in just two weeks.
JJ Lin