Search
Related Articles
Sponsor Ad
Chinese Culture >> Asian Culture >> Malaysia
Malaysia Culture, History
What do you know about Malaysia? If you said that Malaysia is a Malay country with a small size in the map, you are absolutely wrong. For those who used to come to Malaysia will never forget how Malaysia can develop with varieties and millions of culture, belief and customs. We did have Malay, Chinese, Indian and these three races are the major communities in Malaysia. However, you also should consider Kadazan, Iban, Dusun, Baba and Nyonya and more communities living together in one roof.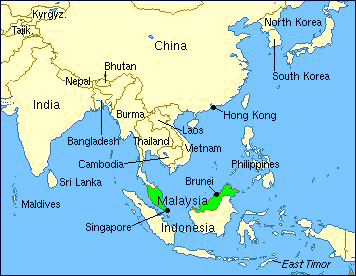 Let me tell you the history of Malaysia. At least you can get an idea about this country. Historians often speak of Malaysia's ancient past as something "shrouded in mystery," a kind of black hole in Asian history. The truth is that there is not much archeological evidence or written records from ancient Malaysia; but it is likely that this situation will change. Many suspect that there are more prehistoric archeological sites along the coasts and in the jungles and hills, but given Malaysia's riotous vegetation it will take time to find them. We do know that homo sapiens have been in Malaysia for a long time. The oldest known evidence of human habitation is a skull from the Niah Caves in Sarawak dating from 35,000 years before Christ. On the peninsula, stone age tools and implements from about 10,000 BC have been found, and some archeologists suggest that they were left there by the predecessors of the Negrito aborigines - one of the earliest groups to inhabit the peninsula.

We also know that about 2,500 years before Christ a much more technologically advanced group migrated to the peninsula from China. Called the Proto-Malays, they were seafarers and farmers, and their advances into the peninsula forced the Negritos into the hills and jungles. History's periodic waves of cultural evolution, however, soon created another group, the Deutero-Malays. They were a combination of many peoples - Indians, Chinese, Siamese, Arabs, and Proto-Malays - and they had risen by mastering the use of iron. Combined with the peoples of Indonesia, the Deutero-Malays formed the racial basis for the group which today we simply call the Malay. This is Malaysia in the time of 35,000 BC to 100 BC, how about Malaysia in the time of great Malacca and Islamic religion? Until the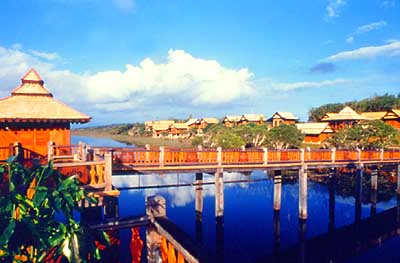 15th century, the Hindu kingdoms of peninsular Malaysia were largely overshadowed by neighboring kingdoms in Cambodia and Indonesia. The strongest of these kingdoms was called Srivijaya, and the records of Chinese, Indian, and Arab traders laud it as the best trading port in the region. It was the first great maritime kingdom in the Malay archipelago, and other ports quickly emulated its success. At some time around the 13th century, as other entrepots emerged, Srivijaya's influence declined. The lack of a strong central power, coupled with the ever-present nuisance of pirates, amplified the need for secure, well-equipped port in the region. Fate would make this port the city of Malacca.

According to the Malay Annals, Malacca was founded in 1400 by a fleeing Palembang prince named Parameswara. Its rise from a village of royal refugees to a wealthy kingdom was swift. Perfectly located for trade, within 50 years it was the most influential port in Southeast Asia. At any one time, ships from a dozen kingdoms great and small could be seen in the harbor. With these traders came Islam, and Malacca's rulers now referred to themselves as "sultans." The sultans were the heads of a highly organized municipal government, whose main purpose was to facilitate trade. Every incoming ship was met by a multilingual harbor captain, whose staff would see to all the vessel's needs. There were also guarded storehouses where goods from the interior and abroad could be stored until traders arrived. Most importantly, Malacca was able to control what had always been the bane of trade in the Straits area - pirates. By building alliances with outlying tribes and ports, Malacca established a kind of regional "navy" that policed the local waters and escorted friendly vessels. With the success and power it enjoyed, Malacca came to control the entire west coast of the Malay peninsula, the kingdom of Pahang, and much of Sumatra. At the height of its power, however, fate would ruin the city as quickly as it built it up. In 1511, the Portuguese arrived, beginning a colonial legacy that would last well into the 20th century.

At the beginning of the 16th century, the eastern spice trade was routed through Egypt, and no non-Muslim vessel was permitted to dock in Arabian ports. The competing European powers, painfully aware of the need for an open trade route to India and the Far East, sought to establish their own trading ports at the source. In 1511, a Portuguese fleet led by Alfonso de Albuquerque sailed into Malacca's harbor, opened fire with cannon, and captured the city. Malacca's golden age had come to an end.

The Portuguese constructed a massive fort in Malacca - A Famosa - which the Dutch captured in turn in 1641. This would give the Dutch an almost exclusive lock on the spice trade until 1785, when the British East India Company convinced the Sultan of Kedah to allow them to build a fort on the island of Penang. The British were mainly interested in having a safe port for ships on their way to China, but when France captured the Netherlands in 1795, England's role in the region would amplify. Rather than hand Malacca over to the French, the Dutch government in exile agreed to let England temporarily oversee the port. The British returned the city to the Dutch in 1808, but it was soon handed back to the British once again in a trade for Bencoleen, Sumatra.
The Dutch still largely controlled the region, however, and in 1819 Britain sent Sir William Raffles to establish a trading post in Singapore. These three British colonies - Penang, Malacca, and Singapore - came to be known as the Straits Settlements. While the European powers played their regional chess game, the local Malay sultanates continued on their own affairs. After Malacca was captured, the new Muslim trading center became Johor, then later on Perak. Both the Minangkabau Immigrants from Sumatra and the Bugi people from Celebes immigrated to the peninsula in large numbers, leaving lasting cultural contributions. In the late 1860's, a number of Malay kingdoms began fighting each other for control of the throne of Perak, causing enough of a disturbance in the region to inspire Britain to intervene and essentially force the Malay rulers to sign a peace treaty known as the Pangkor Agreement in 1874. The treaty, unsurprisingly, gave Britain a much greater role in the region - a role it would need in order to maintain its monopoly on the vast amount of tin being mined in the peninsula.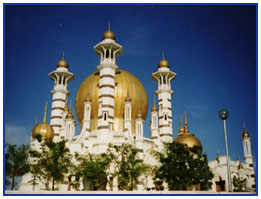 Coupled with the power of the White Rajas in Borneo, Britain ruled over what was then called Malaya until the Japanese invaded and ousted them in 1942. During this time, large numbers of Chinese fled to the jungle and established an armed resistance which, after war's end, would become the basis for an infamous communist insurgency. In 1945, when W.W.II ended, Britain resumed control again, but Malaya's independence movement had matured and organized itself in an alliance under Tunku Abdul Rahman. When the British flag was finally lowered in Kuala Lumpur's Merdeka Square in 1957, Tunku became the first prime minister of Malaya. As I told you earlier that we have three main communities living in Malaysia and let me explain to you in details these three races. The Malay are Malaysia's largest ethnic group, accounting for over half the population and the national language. With the oldest indigenous peoples they form a group called bumiputera, which translates as "sons" or "princes of the soil." Almost all Malays are Muslims, though Islam here is less extreme than in the Middle East.
Traditional Malay culture centers around the kampung, or village, though today one is just as likely to find Malays in the cities. The Chinese traded with Malaysia for centuries, then settled in number during the 19th century when word of riches in the Nanyang, or "South Seas," spread across China. Though perhaps a stereotype, the Chinese are regarded as Malaysia's businessmen, having succeeded in many industries. When they first arrived, however, Chinese often worked the most grueling jobs like tin mining and railway construction. Most Chinese are Tao Buddhist and retain strong ties to their ancestral homeland. They form about 35 percent of the population. Indians had been visiting Malaysia for over 2,000 years, but did not settle en masse until the 19th century. Most came from South India, fleeing a poor economy. Arriving in Malaysia, many worked as rubber tapers, while others built the infrastructure or worked as administrators and small businessmen. Today ten percent of Malaysia is Indian. Their culture -- with it's exquisite Hindu temples, cuisine, and colorful garments -- is visible throughout the land.

The oldest inhabitants of Malaysia are its tribal peoples. They account for about 5 percent of the total population, and represent a majority in Sarawak and Sabah. Though Malaysia's tribal people prefer to be categorized by their individual tribes, peninsular Malaysia blankets them under the term Orang Asli, or "Original People." In Sarawak, the dominant tribal groups are the Dayak, who typically live in longhouses and are either Iban (Sea Dayak) or Bidayuh (land Dayak). In Sabah, most tribes fall under the term Kadazan. All of Malaysia's tribal people generally share a strong spiritual tie to the rain forest.

It would be difficult to overstate the attraction of Malaysia for anyone who appreciates the natural world. Its primal forests, ranging from shoreline mangrove to mountaintop oak, are of the sort that most of the world now knows only in myth. Although Malaysia's size is similar to that of Norway, natural trees and forests cover almost three quarters of the land, an area equivalent to almost the entire United Kingdom. One can walk for hundreds of miles in Malaysia under a continuous canopy of green, marveling at an abundance of plant and animal species equaled by no other location in the entire world. A single half-kilometer plot of land in Borneo's lowland dipterocarp forest, for example, may well contain more than eight hundred different species of trees alone, a stunning degree of variety that pales, however, in comparison to the profusion and diversity of flowers, birds, ferns, and insects.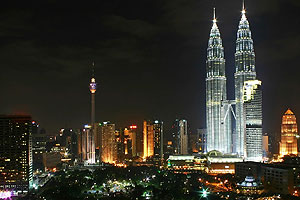 This endlessly varied environment also shelters a host of the world's rarest and most remarkable animals: the Sumatran Rhinoceros, the Clouded Leopard and Malaysian Tiger, the Sun Bear, the Monitor Lizard, and the Orang Utan, or "man of the forest," are just a few examples. Malaysia's forests are also home to Southeast Asia's highest peak, as well as to the world's most extensive and capacious natural caverns. The forest itself is one of the most ancient on the planet, far older than the equatorial forests of the Amazon or the Congo. It has for tens of thousands of years been the home of nomadic forest peoples, and ancient civilizations have flourished as well as disappeared in its vastness. Legends abound, and archaeologists have only just begun their efforts here. Equally exciting discoveries are now being made by genetic biologists, who have begun searching the wealth of life in Malaysia's forests for new medicines with which to combat AIDS, cancer, and many other illnesses. And that is only the forest. Malaysia's offshore islands are of legendary beauty. For millenia, Pulau Langkawi and Pulau Tioman have been sought-after havens of peace from the turbulent outside world, a tradition that is evidenced today by their international status as holiday destinations. Pulau Sipadan, a small oceanic island off the eastern shore of Borneo, rises in a sheer column more than six hundred meters from the seabed. Completely encircled by sheer drop-offs and walls, Sipadan is one of the world's foremost dive sites. In order to safeguard its precious natural heritage, Malaysia has set aside many areas as parks and wildlife reserves. Together with natural forest management, conservation of wildlife, birds and marine life, nature reserves have been established through a network of protected areas. Almost one and a half million hectares of conservation areas are protected by legislation.

Besides the many splendid sights in Malaysia's National Parks, visitors can enjoy an exhaustive tour of thrills and spills during their visit--boating through swirling rapids or between emerald green islands, stalking big game and fly-fishing for giant carp, bird-watching, mountain climbing, spelunking, swimming in placid river waters, or camping amidst giant tropical trees.

If you think about where to visit once you reach here, we are going to expose to you with millions and billions of list of great places that you never take granted. For example I give you by visiting long house in Sabah and Sarawak. Along the rivers of Sarawak and Sabah are some very unique native communities where people live in structures called longhouses, which are really entire villages housed under a single long roof. They live off small crops and the bounty of the rain forest, and their communality and generosity might best be summed up by one simple fact: anyone is welcome to stay for free for as long as they like (though it is recommended that you bring some small gifts, such as a candy for the kids). Most visitors come with a native guide who can also take you on a jungle walk and translate for you. Some longhouses have special "guest longhouses" adjacent for visitors, others host guests inside the main longhouse itself. I also Do you want to go shopping? Next to activities like spelunking and jungle trekking, "shopping" may sound a bit tame, but make no mistake: exploring Malaysia's outdoor markets is pure adventure (and of course you can take home whatever you hunt - or bargain - down). The variety of bargain items you can find in the major markets is endless, ranging from quality electronics to blowguns to traditional arts and crafts. Currently, the dollar goes a long way in Malaysia, so if you're serious about shopping you might consider bringing an extra bag along.

Lastly, regarding to Malaysia Visit 2007, I would like to invite you to look with your own eyes about our country. You won't regret to be here. We promised to give you the most experience that you will never try to perish in your life forever.
About the Author:
Editor: Edifier http://malaysia-travelandtours.blogspot.com http://kelantan-in-heritage.blogspot.com