New Braunfels
Located in the Texas Hill country, south of Austin and north of San Antonio, New Braunfels is a small city with lots of things to do. (New Braunfels Map)
Natural Bridge Caverns-- Experience one of the world's premier caverns, the Natural Bridge Caverns. See what millions of others have seen, an incredible underground world of natural beauty. Located between New Braunfels and San Antonio, off I-35 exit.175. Call 210-651-6101 or visit www.naturalbridgecaverns.com for more details.
McKenna Children's Museum-- Imagine adding a state of the art, family-friendly, Children's Museum with unique exhibits boasting a Texas twist to your family's vacation plans. Call 830-620-0939 or visit www.mckennakids.org.
Gruene Hall and Gristmill River Restaurant-- The legendary venues of Gruene Hall and the Gristmill River Restaurant offer the best in original Texas music, casual dining, and rustic ambience in Historic Gruene's shopping and entertainment district on the banks of the Guadalupe River. Located in New Braunfels. Call 830-629-5077 or visit www.grustmillrestaurant.com.
Natural Bridge Wildlife Ranch-- This place is a safe home away from home for more than 50 species from every continent except Antarctica. With such a large variety of species, babies are generally born throughout the year. The Wildlife Ranch is located between New Braunfels and San Antonio, off I-35, exit 175. Call 830-438-7400 or visit www.wildliferanchtexas.com for more information.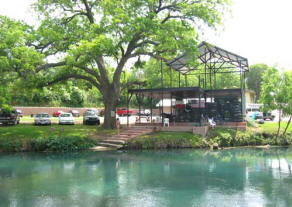 Advertisement