Featured Artist:
S.H.E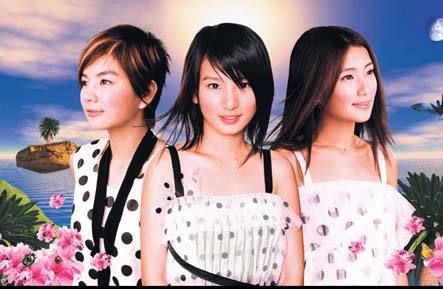 S.H.E is a Taiwanese girl group that specializes in pop music, and consists of Selina Ren, Hebe Tian, and Ella Chen. The group's name is an alphabetic derived from the first letter of each member's name. S.H.E is managed by HIM International and records albums with Avex Asia, a subsidiary of Avex Trax. EMI Music China distributes their music in the People's Republic of China.
On August 8, 2000, HIM International Music held a "Universal 2000 Talent and Beauty Girl Contest" on the "Cruel Stage" segment of Jacky Wu's show, "TV Citizen," in search of new artists to be signed under their label. The contest had about 1000 contestants, and after many tiring rounds, seven contestants remained for the 'Cruel Stage' round. Following the competition, the record company gave all seven contestants an audition. Ren Jiaxuan, Tian Fuzhen, and Chen Jiahua stood out among these seven. Ren Jiaxuan was the actual winner of this contest. Originally, only one person would be given a contract, but because of their incredible performances, all three of them were signed together under HIM International records.
In 2003, S.H.E was the beneficiary of several high-profile advertising deals, most notably for Coca-Cola. In 2005, Blizzard Entertainment asked the band to help them advertise their best-selling MMORPG computer game, World of Warcraft . The commercial was mostly a computer generated video, where the girls were put into the context of a fantasy gaming world. Super Star, from the group's fifth album, has been one of S.H.E's more notable songs.
S.H.E has quite a number of cover songs, which is not surprising given that they have released nine albums in only five years. Their 2005 album Once Upon A Time contains no pop covers but has one parody of European classical music. S.H.E's covering of songs has earned some ire over the years; in 2005, a netizen lashed out at the group for singing 25 cover songs, a number that was regarded as too many. However, according to the Epoch Times, S.H.E fans felt the netizen was slightly uptight about the issue, and stated that "as long as the song is nice, [there's no] point worrying about whether the song is a cover."

It is a common misconception that S.H.E's 2003 hit "Super Star" is a cover song. The German songwriter Geo composed "Super Star" for S.H.E. After it became popular, Geo had the lyrics rewritten for his Euroband, Sweetbox, as the song "Chyna Girl". The same situation occurred for the song "I Love You" (我愛你), with Sweetbox re-singing it as "More than Love." While the musical style of the original songs is usually maintained, some covers, such as "Only Lonely" and "I.O.I.O," have a lighter, bubblegum pop feel.