5566 is a Taiwanese boy band. Their name is derived from their original five members (Zax Wang, Jason Hsu, Sam Wang, Rio Peng, and band leader Tony Sun) working in six entertainment fields (singing, movies and dramas, hosting, modelling, commercials, and dancing). To date, they have starred in three idol dramas, My MVP Valentine, Westside Story and Mr. Fighting. They have also released four albums: 1st Album (1st Album), Boyfriend (2nd Album), Long Time No See (3rd Album), and Bravo (4th Album), and two compilation albums: C'est Si Bon Greatest Hits, I Love 56-Reemerging Legends: 5 Years Greatest Hits, and taken part in four OSTs: My MVP Valentine OST, Westside Story OST, Mr. Fighting OST, and Ying Yie 3 Jia 1 OST.
Featured Artist:
5566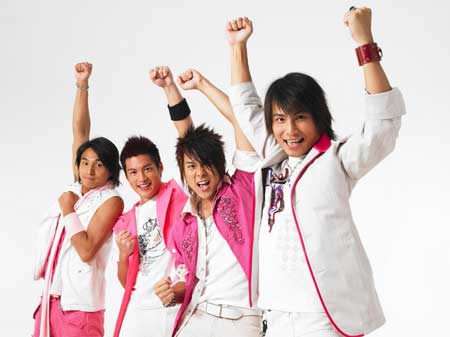 To date Cyndi Wang has released 5 albums: Cyndi: Begin, Cyndi: Loves You (愛你), Honey (甜蜜慶功版), 閃耀 2005 新歌+節奏精選, and Cyndi With U (王心凌陪你).
Outside her music career, Cyndi Wang has also starred in various Mandarin Chinese dramas such as 'Westside Story' (西街少年) and 'Le Robe de Mariage des Cieux' (天國的嫁衣) and the newest drama "Smiling Pasta(微笑Pasta).
Man You Zhong Guo 漫游中國
喝采 (完整版) - 5566
误会大了