Chinese Culture >> Chinatowns
Chinatown
by: Charlie Karpowsky
China has a long and rich history of exploration and migration around the world. In fact, according to the Overseas Chinese Affairs Commission, at the end of 2003, there were 36,116,521 Chinese people living in countries around the world and 35,485,946 at the end of 2004 (measured by the first 20 ranked locations).
A Chinatown is an urban region containing a large population of Chinese people within a non-Chinese society. The word "Chinatown" in Chinese means "The Street of the Tang People", with Tang referring to the Tang Dynasty, a period of Chinese history regarded by many people as the pinnacle in the Chinese civilization.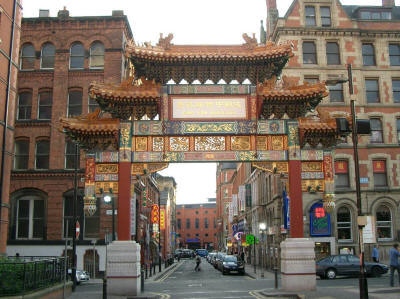 For many Chinese people, the original Chinatowns around the world were not started out of choice, but because of racial segregation, and oppression. In other places, they were created to bring a sense of home and community to strangers in a new land.
The early Chinese immigrants created small Chinatowns in which they opened their own stores and restaurants, set up temples, and formed different community support groups.
Whatever their origins, you can find a Chinatown in almost every major city in the world. They vary in size -- from a couple of streets to large, thriving cities within a city.
Visit any Chinatown in the world and you'll be treated to a banquet for your senses -- vibrant, shimmering silks that are sensuously soft against your skin, exotic spices and culinary delights to tempt your tongue along with a kaleidoscope of sounds, fireworks and music. Wander along the crowded streets and you'll find large pagoda-style arches, paper lanterns, Chinese dragons, beautiful temples, ethnic Chinese and other Asian restaurants and small businesses.
Here is a list of some of the best Chinatowns in the world:
San Francisco, California: The largest Chinatown on the West Coast, Chinatown is one of San Francisco's biggest tourist attractions. It is world-renowned for its exotic ambience. The history of this Chinatown dates back to the gold rush days of the mid 1800s. Although they were not allowed in the mines, Chinese immigrants built laundries and restaurants to serve the
growing city. Today, the area is about eight blocks long, and the best time to visit is usually mid-day. Don't miss the small exotic shops that you'll find on the narrow streets, to look for the best bargains. Here are some attractions of SF Chinatown : Bank of Canton, Cameron House, Canton Flower Shop, Chinatown Gateway, Churches, Great Star Theater, Golden Gate Fortune Cookie Factory, Hotels, Library, Museums, Nam Kue Chinese School, Parking, Parks, Portsmouth Square, Restaurants, Streets, SW Hotel, YWCA.
New York City, New York: Found in lower Manhattan, Chinatown in New York takes up two square miles. It is the largest Chinatown in the U.S. Founded by Chinese sailors and traders in the mid 18th century; the population was small and transient. It wasn't until the Californian Gold Rush that large numbers of Chinese immigrants came to the U.S. After racial tension created problems in the West, immigrants moved back east for safety and employment. Today it's overcrowded and narrow streets are both a tourist attractions and home to the largest population of Chinese New Yorkers.
NY Chinatown has hundreds of restaurants (especially on Mott, Pell and Doyers streets), booming fruit and fish markets, and shops for knick-knacks and sweets on winding, crowded streets.
Singapore: In a city already predominated by Chinese people, an area named "Chinatown" may seem rather redundant. But Chinatown here is one of the most active and vibrant in the entire world. Here you'll enjoy a feast for your palate as well as your eyes. A common architectural feature you will find around Chinatown is the shophouse, which is done in a style peculiar to this region of the world and known as Chinese baroque. Enjoy exotic dining, brightly painted buildings, nightly cultural activities and shopping.
Melbourne, Australia: Chinatown Melbourne also dates back to the mid-19th century gold rush. It combines the best of Chinese, Japanese, Thai and Korean cultures in a busy, bustling environment full of history. The best time to visit Chinatown Melbourne is at night, when the decorative streetlights are ablaze, lanterns are lit in restaurant windows, and wind chimes and neon lights are dazzling. Another attraction of Chinatown is the Chinese Museum (Cohen Place), which has artifacts on display documenting Chinese history in Australia from the Gold Rush days. Your biggest problem will be deciding where to go first!
Toronto, Canada: Sam Ching's Chinese laundry, downtown, launched the oldest of the six Chinatowns in the metro area of Toronto. Begun in the 1870's, Chinatown Toronto is famous for over 500 Chinese restaurants, glazed porcelain tea sets, jade necklaces, pearls, and the latest in electronic gadgets. If you watch closely, you'll even see abacuses being used to figure totals and change. Packed tightly into a maze of narrow and busy streets are bins brimming with exotic foods and one-of-a-kind boutiques in Chinatown and nearby Kensington Market.
The Chinese Festivals occur throughout the Lunar New Year. As our calendar year and the Lunar year is different, the festivals fall on different dates each year.
Chinese festivals are celebrated in every Chinatown, and if you happen to find yourself in one of the world's Chinatowns during one, you can consider yourself lucky. Celebrations include lion dances, fireworks, parades, music and laughter. You'll enjoy seeing the true spirit of the Chinese people as they come together to celebrate and honor their history and culture.
About the Author:
I'm Charlie Karpowsky, I'm from San Francisco. I first came to the bay area with friends in 1971, shortly after my return from Vietnam. I enjoyed some of the best times the city had to offer then. http://www.THESANFRANCISCONEWSBLOG.COM