Search
Related Articles
Sponsor Ad
Chinese Culture >> Chinese Actor, Actress >> Jay Chou
Jay Chou
Jay Chou was born in Taipei, Taiwan, and raised by his mother, who was a high school teacher. He began playing the piano at the age of 3, showing enormous interest in music. While he was in third grade, he found an interest in cello and had daily cello lessons. His mother took him to concerts to help further develop his talents. His parents divorced when he was 14; as a result, he became very independent. Jay studied piano with a minor in cello at Dan Jiang Senior High School. This accounts for his solid background in classical music. In June 1996, Jay did not meet the requirements of his selected university, so he found a job as a waiter.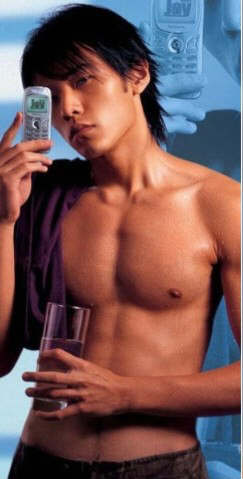 Jay's first encounter with the music industry was when he entered a talent show as a pianist with his high school friend. Although their performance wasn't exceptional, the producer Jacky Wu saw talent in Jay's composition and decided to give him a chance. He was initially hired to write and produce music for others, including Vivian Hsu, Jolin Tsai and Jody Hui Chiang. Although many of his songs became popular, most people were unaware that they were his creations.

In 2000, Jay has his own album debut by producing and releasing Jay, which, much to everyone's surprise, became an instant hit. It gained great attention in Taiwan as well as the international Chinese community (including mainland China, Hong Kong, Macao, Malaysia, Indonesia, Philippines, and Singapore). When his second album Fantasy was released, he was already among one of the top pop stars in the Asian community. His most critically and financially successful album as of yet is his third, Eight Dimensions.

Jay's fourth CD was named after his mother, Ye Hui Mei. This revolutionary album reveals that Jay is not afraid to experiment with new styles and sounds. He shows a willingness to break his "love ballad" mold and show a more daring and edgy side.

Common Jasmine Orange, Jay's fifth CD, was released on August 3, 2004; the next year, Jay played the leading role Takumi Fujiwara in the movie Initial D, which was based on a popular Japanese anime and manga of the same name. Despite the fact that he won the award for Best Newcomer at the 42nd Golden Horse Awards and the 25th Hong Kong Film Awards for his role in the movie, the movie was a disaster for Jay's public image. Even those of his fans thought the movie revealed his lack of understanding and experience in basic acting. His elaboration of the character Takumi Fujiwara lacked vitality and emotion as certain critics have harshly stated, "he elaborated and acted the character Takumi Fujiwara as a mental retard". Other well known celebrities also appeared in the film, such as Anne Suzuki, Stephen Yung, Edison Chen, Shawn Yue, Chapman To, and Anthony Wong.

Initial J, his greatest hits compilation, was released in 2005 in Japan only. The name is a play on his movie role, Initial D.

Jay's November's Chopin was released in November 2005. It is based on Frederic Chopin, one of his favourite composers of all time. Jay composed the first song in the album, "Nocturne" (夜曲), which was greatly influenced by Chopin's music. Both Chopin and Jay are nicknamed in Chinese, "piano poets" (鋼琴詩人). The album was criticized for being to similar to his last album and not improving, sales of the album also weren't as great as past albums. Jay personally wasn't nominated for any golden melody award but the album was.

In January 2006, Jay released his latest EP "Huo Yuan Jia (霍元甲)" which includes the theme song he composed for Jet Li's latest and, allegedly, last martial arts film, Fearless. In the MV for 'Huo Yuan Jia', Jay has a turn at swinging the Chinese Weapon, "Three Sectional Staff".

September 5, 2006 marked the release of his seventh album Still Fantasy.

Jay Chou has completed production with Tony Leung Chiu Wai on a $7.7 million U.S. project. He composed and performd "Chrysanthemum Flower Bed (菊花台)", the end credit's song to Chinese director Zhang Yimou's new movie, Curse of the Golden Flower in which he also co-stars. In addition, Jay Chou will star in the Japanese anime re-make "Slam Dunk".

Since entering the music industry, Chou has been romantically linked to an array of female celebrities, such as Jolin Tsai, Vivian Hsu, Ock Ju-Hyun, and Hebe Tian from S.H.E.. In February 2005, Chou was photographed with entertainment host, Patty Hou, shopping in Japan. After a splurge of media attacks, Chou allegedly admitted to being in a relationship with Hou. However, from May to July of 2006, both sides coldly stated, "I've never said we were together." This has caused both fans and the media to speculate about the present status of the couple's relationship. In September 2006, Chou revealed he was single in an interview, claiming he was "not in a relationship right now", as he wished to "only...spend more time with [his] mother and grandmother." In the same month Patty Hou confirmed that their relationship had ended.
Musical Style
Jay Chou's musical style is similar to that of most singers in Asia, but it can be argued that he has created his own genre of music. His early work emphasizes R&B influences, but as his popularity skyrocketed and more albums came out, his style slowly changed into something that many people call "Jay style". He started singing different genres of music and developed great interest in Chinese-style music, or "中國風". Songs like "Eastern Wind Breaks" (東風破) and "Hair Like Snow" (髮如雪) demonstrate that he is more than a standard pop singer. He also sang rock in "All the Way North" (一路向北) and bossanova in 迷迭香 (Rosemary). For his new movie Curse of the Golden Flower, Jay sang the end credits' song, known as "Chrysanthemum Flower Bed" (菊花台). The song was influenced by ancient Chinese styles, and Chou sang very clearly and slowly, in contrast to his usual style.


Collaborations
Jay Chou has been collaborating with Nan Quan Ma Ma, a group that is a hybrid of pop, R&B, and rap. As a result, Jay has helped to improve this group tremendously, making it very popular in Hong Kong. In the music video for Twilight's Chapter Seven in Still Fantasy, he worked with two members from Nan Quan Ma Ma, Devon and Yuri, to produce an English-style detective murder case, which he directed. Jay has also collaborated with artists such as Chinese pop singers Landy Wen, Lara Veronin (from Nan Quan Ma Ma), Jolin Tsai, Vivian Hsu, DOMiNiQUE, and Patty Hou (for a charity show); he has tied international cultures together in his music by featuring producer Michael Lin rapping in Korean and using Thai in his album November's Chopin. In his latest album "Still Fantasy" he recorded a duet called "Faraway" with a famous Taiwanese ballad singer, Fei Yu Qing, the tenor with a golden voice.


Discography

Albums
周杰倫同名專輯 Jay — November 7, 2000
范特西 Fantasy — September 1, 2001
八度空間 The Eight Dimensions — July 19, 2002
葉惠美 Ye Hui Mei — July 31, 2003
七里香 Common Jasmin Orange — August 3, 2004
十一月的蕭邦 November's Chopin — November 1, 2005
依然范特西 Still Fantasy — September 5, 2006