Search
Related Articles
Sponsor Ad
Chinese Culture >> Travel Reviews >> Cybernetic Fountain
Macau Famous Cybernetic Fountain
By: Elisabeth Jean
All things Asian still brings on a curiosity from Westerners and travel to Asian countries has always been a popular destination choice for many. For those who love water sites and spectacles, fountains in particular, your trip to China would not be complete unless you visit the Cybernetic Fountain.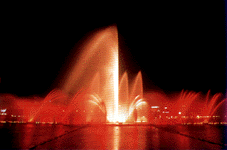 The Cybernetic Fountain is located in Macau, China. Macau was a former Chinese territory run under Portuguese administration. While Chinese and Portuguese are the two main languages spoken in Macau, English is also spoken in all the tourist areas such as where the Cybernetic Fountain is located.

The Cybernetic Fountain is the largest man-made water fountain not only in China but also in Asia. This computer run fountain was created by a Portuguese-Spanish company and is equipped with 86 water spouts. The main cannon shoots a huge spray of water into the air between 70-80 meters high. Originally the Cybernetic Fountain was located at the Macau peninsula reservoir and later moved to its current location on Nam Van Lake in March of 1999.

What makes the Cybernetic Fountain unique is that aside from being the largest fountain in Asia, it also sports a laser show. There are several cannons all in a row and the sprays of water are coordinated to shoot up into the air creating a magnificent rainbow of vibrant colors. The laser show is free to the public but you would have to check the schedule to make sure you are there on the right night. The schedule varies during the different seasons of the year. More shows are delivered during holiday season, especially during Chinese New Year. The spectacle of 288 colored spotlights and falling water is entertaining and beautiful. Access to the fountain laser show is relatively easy as it is located in front of the Ferry Terminal.

Nam Van Lake, also man-made, is located opposite the Government Headquarters of Macau SAR (Special Administrative Region). Macau retains its own currency, laws, and border controls so you might want to read up on its tourism and any special requirements before traveling there.

Indeed, for those of you who strive to see the greatest fountains around the world, you must plan to make a visit to Macau, China. While the Cybernetic Fountain is not so uncommon, it is always nice to say that you visited the largest fountain and water laser display in all of Asia.
About the Author:
Elizabeth Jean is an outdoor gardening writer and frequent contributor to Garden-Fountains.com, a premier internet destination for water fountains and garden statuary