Search
Related Articles
Sponsor Ad
News >> Nintendo Wii
Nintendo Wii: The Next Generation Gaming System
Wii Launch Date: 11.19.2006
After the release of the Xbox and PS2, in the highly competitive world of video gaming consoles it appears like Nintendo was pushed out of the game. Now, with the brand new Xbox 360 and the soon to be released PS3, Nintendo needs to definitely do something cool in order to keep up with the 2 giants that are leading the game so far. Nintendo's answer to this situation is the in-development-stages Nintendo Wii. Hopefully, this will be a console capable of competing with Xbox 360 and PS3. Will Wii really manage to give Nintendo a breath of relief? Well, only time can show.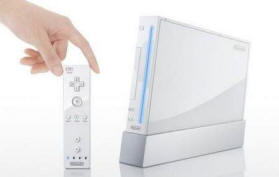 Nintedo Wii has been in development for quite some time now. The initial name of the project was Nintendo Revolution but later on, the guys at Nintendo decided to change it's name to "Wii" (it's pronounced we). The console itself is a black (it can also come in other colors, that's a common practice by Nintendo), sleek, rectangular box with a blue, beautiful, LED illuminated slot-receiver. The exterior follows the concept 'keep it simple and effective' and it's completely different from the flashy Xbox 360.
Leaving the eye-candy aside now, let's talk about the actual features of the Wii console. First of all, Nintendo promised that the Wii will bring a whole new gaming experience upon it's arrival. Part of the implementation of this plan is a small controller that comes along with Wii. Although it appears just like a simple TV controller, it contains motion sensors; this feature will be utilized in various game play aspects. For example, Titles such as Legend of Zelda: Twilight Princess and Red Steel take advantage of the new controller technology in order to provide the player with an effective way to aim.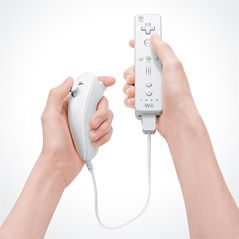 Regarding interior hardware aspects of the Nintendo Wii, what we know by the moment is that it will be equipped with an IBM CPU, an ATI graphics card and a RAM memory of 512MB. Of course, it features wireless controllers, 2 USB ports and a built in antennae for WiFi internet access. Sadly for those who consider it a must, Wii will not support HD output but it still has the potential to look pretty good on a HDTV due to its wide screen friendly mode and the 480p progressive scan.
The last thing to add is that Wii features an amazing backwards compatibility feature. You can play literally any game that Nintendo has ever produced. Yes, even retro games! Finally, another good thing about the Wii is that it will come at a very affordable price; according to Nintendo it is going to cost something less than 250 Dollars!

About the Author:
John Gibb is the owner of gamesconsoles facts , For more information on games consoles check out http://www.gamesconsole-guides.info.