China Gourmet Chinese Restaurant

ChinatownConnection Editorial Profile
The Scene
China Gourmet Chinese Restaurant is very clean and down to earth. The design is simple but effective. It is a self service restaurant so no tipping is required. Here is how it works: go inside, go to the counter to order, sit down and enjoy.
The Food
China Gourmet has a menu full of mouth-watering dishes. The food (especially the Taiwanese cuisine) is one of the best and the service is remarkable. They have my favorite, the famous Taiwanese Black Pepper Steak, which consists of noodles covered by a special sauce and on top, a piece of black pepper beef steak sizzling on a piece of iron/wood plate. It also contains vegetables and a sunny side up egg.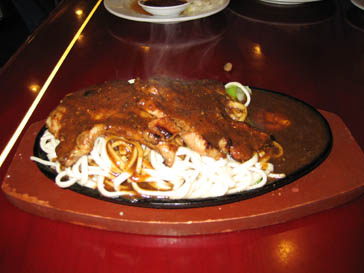 Heads Up
China gourmet is one of the best Taiwanese restaurant in the Houston Chinatown area. Since it is self service restaurant, you don't have to shell out any tips. The lunch special is about $3-$6, and you will be surprise by how much food is served. Also, try their black tea for only one dollar. It tastes refreshing.
Best of Chinatown Rating: 4.5