Most Recent Houston Classifieds
Want to submit a Houston classifieds listing? Simply click here.
Learn Chinese in China to Know Asian Culture in a Better Way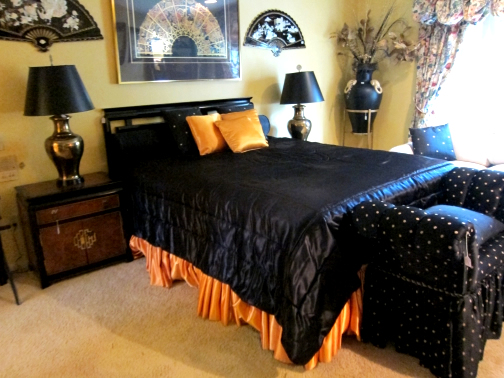 BEAUTIFUL LIKE-NEW CHINESE STYLE FURNITURE & DECOR FOR SALE - Selling entire contents of 2-story home in Rice University area including contemporary style black lacquered bedroom suite with decorative accessories; beautiful painted desk and chair; fish bowls; black lacquered nested tables, jardineres & wall plaques with carved hardstone overlays; carved wood sculptures; and much more. Open to the public for sale on June 14-16 from 9am to 5pm only. 2150 Swift St. (77030). South of University Blvd, three blocks east of Greenbriar. Call 713-201-1692 for more info.
---

Food/Beverage Distribution Company is needing Class A & B drivers, need past driving experience and great customer service skill, they will be unloading their own truck and possibly could be on the road 2-3 days at a time. Class A pays $13/hr and Class B pays $12/hr. Languages preferred English/ Vietnamese, Mandarin, Korean, Location is 290/Beltway 8.

Please email your resume to Diana@parkweststaffing.com or call 281-899-2100 to schedule an interview time.
---

Bilingual Call Center and CSR Representatives (Mandarin and Vietnamese)

Our company needs individuals to work as call center / customer service representatives assisting individuals with Section 8 Housing application process. These are one month assignments going from mid June through the end of July. These are excellent opportunities for students or individuals needing a summer position.

Requirements: Must speak English and either Mandarin or Vietnamese
Must have at least 6 months of call center / customer service experience
Pay - $10.35 per hour. 40 hours per week

Please email your resume to Diana@parkweststaffing.com or call 281-899-2100 to schedule an interview time. These are immediate openings and we are looking to interview by June 6th and June 7th.
---

Our client has an immediate opening for a bilingual administrative assistant who can speak and write both Mandarin and English. The ideal candidate will have strong Excel, Word and other MS Office skills. The client requires a bachelors degree or 5-7 years of administrative experience.

This position is a temporary to hire position and pays up to $36K DOE. After 90 days, the candidate selected will work directly with the client company and receive additional benefits. Please email your resume to Diana@parkweststaffing.com or call 281-899-2100 to schedule an interview time.

---

Our company is currently seeking a Bilingual Purchasing Agent (Mandarin and English) in the fitness equipment industry. This is a temp to hire position with a fitness equipment company in Houston, TX.

Summary: This position will purchase merchandise for resale. The ideal candidate will have experience in purchasing products in China. In addition, the candidate must have exceptional organization skills, logistics knowledge, analytical problem solving, interpersonal skills, excellent written and oral communication in both English and Chinese and the ability and desire to control costs. This is a fast-paced work environment requiring a person who is able to meet deadlines with accurate and detailed results. This position will require involvement in the planning and negotiations of the shipments.

Preferred Qualifications: Bachelor's degree (B.A.); 1-5 years related experienced and / or training; or equivalent combination of education and experience. Must be able to perform this job successfully, an individual should have knowledge of database software; internet software: order processing systems; spreadsheet software and word processing software. This position requires at least 50% travel primarily to China but will include other locations as well.

Please email resume, cover letter and salary history and requirements to: Diana@parkweststaffing.com
Equal Opportunity Employer Hiring
---
Pitney Bowes Presort Services is currently hiring Supervisors !!! Vietnamese / English a plus....
Log on to www.pb.com/careers

Click on Job Search under Careers

Click "I accept" Terms and Conditions

Go to Job Number and type in 100614 (supervisor 1st shift )

Scroll to bottom of page , click on Job Description Click on Apply online Create your online profile for Job Posting Done
In addition to first shift supervisor we also have the following positions available:

Quality Control Supervisor - Job Number 100612
2nd Shift Supervisor - Job Number 100618

Job ID: 8/18/10
---
Qualifications & Education Needed:
High school diploma, high school equivalency or currently attending high school

Must successfully pass background investigation and drug screen according to company policy

At least 17 years of age

Must be able to get along with co-workers and work effectively in a team environment
Job Description:
Under immediate direction, provides prompt, efficient and friendly services to customers, involving receipt and payment of cash, and to recognize customer needs with suggestions appropriate to the bank's service

Follow the established policies in accordance with the bank and the supervisor s direction

Process deposits and pay out funds in accordance with bank procedures, to record all transactions accurately and balance each day s operations

Receive cash and checks for deposit, verify amounts, and look for check endorsements

Examine cash carefully to guard against acceptance of counterfeit checks and identification

Enter transactions into computer and issue customer receipts

Sell and prepare money orders, cashiers checks, bank-to-bank wires, savings bonds, travelers checks and certificates of deposit

Process western union wires and cash advances

Cross-sell bank services and products

Accountable for the personal achievement of monthly new account production as assigned by upper management

Approval limits will be based upon level of authority

Perform other tasks requested by supervisors as they relate to the bank and its functions
Physical Requirements:
Required to stand or walk for extended periods of time dependent upon branch location

Operate a computer and other office machinery

Occasional lifting of up to 25 lbs will be required
EOE, M/F/D/V. Job ID: 6/26/10
---
Now Hiring: Billing/Accounting Clerk for Law Firm. Location Kirby/W.Alabama Please Fax Resume to: 713-512-7121. Job ID: 061610
---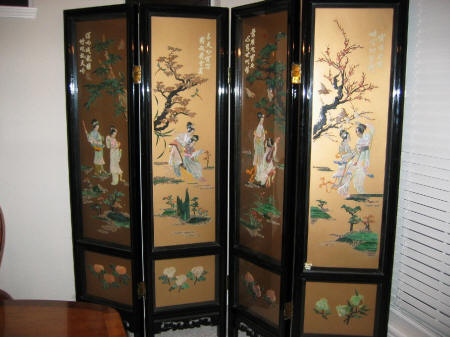 For sale is a gorgeous Chinese folding partition / room divider with four (4) panels. One side has ornately inlaid carvings of traditional Chinese artwork and script/characters while the other side has painted floral art.

The carved inlays are made of real jade and mother of pearl shells and the piece is of a very heavy, solid wood construction. This was originally purchased for $1,500. This piece would be a beautiful addition to an Asian restaurant or any Oriental themed decor.

Please note that one of the characters has loosened off with time, but it's not noticeable. Otherwise this piece is in great condition. I have a couple of more close up pictures that I can send via email.

Asking $1,000, cash or PayPal only. Pick up only from Katy area. Email xp.trust@gmail.com if interested.
---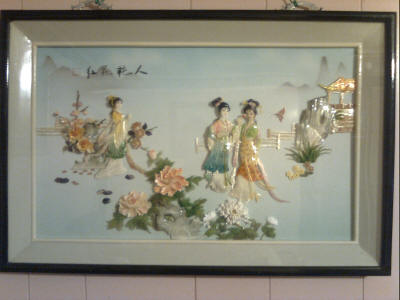 Chinese carved shell wall hang shadow box for sale. It measures 23-5/8" x 35-1/2" framed and the picture itself measures 18" x 29-1/2" more or less. Material is ornately carved shells and jade. Call at is 832-423-5290 for more info. Will sell to the highest offer. Price: $1,500.00. Local cash or PayPal.
---


Local Advertisement
---
Chinese Stitch Art For Sale: (frame included) for sale. Price: $90.00. Located in Houston. Will also ship outside of Houston. Email aznrosr50@msn.com for more details. Visit Chinese Paintings Store for more paintings.
---
Want to submit a Houston classifieds listing? Simply click here.
Special Advertisement