Houston Classifieds
|
Antiques & Collectibles Classifieds
Want to submit an antiques and collectible classifieds listing? Simply click here. It's that simple and it's free**!!!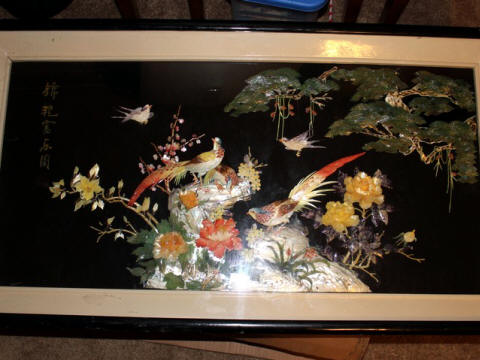 Truly beautiful, detail oriented, Chinese shadow box art. Carved from shells possible abalone and jade. The detail is just amazing. The piece has a red stamp on it and what appears to be a signature or a piece title painted on the left hand side, however I am not able to read it The frame is dinged up a bit and there appears to be a tiny piece of shell at the bottom of the shadow box, Otherwise the piece is perfect.

Please make me an offer, Serious inquiries only. Email : peanutwoman83@gmail.com

This pieces frame measures 23 3/4" x 43 1/4" (art 18"x39")
---
This is an antique three piece marble clock set. The clock is in working condition. There is the center clock and two lamps. The lamps are electric and also in working condition. There is no damage to this clock. This is a beautiful set that would go in any room either on a mantle, a table or could go in an office. It's very elegant and a statement set. If you would like to see large photos of the clock set please email clementkush@yahoo.com and request them. This clock measures 26 1/4"high and 21 1/2" wide.
---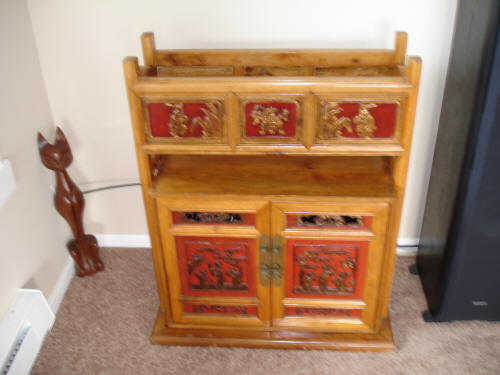 Antique mid 19th century Chinese wedding dowry chest. Excellent condition and beautiful decor to every room. Solid wood and hand carved. A very rare item. Asking Price: $599. Call 360-627-7234 if interested.
---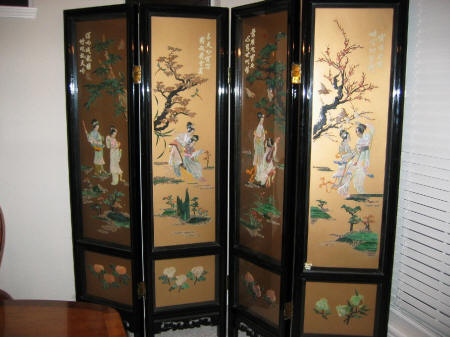 For sale is a gorgeous Chinese folding partition / room divider with four (4) panels. One side has ornately inlaid carvings of traditional Chinese artwork and script/characters while the other side has painted floral art.

The carved inlays are made of real jade and mother of pearl shells and the piece is of a very heavy, solid wood construction. This was originally purchased for $1,500. This piece would be a beautiful addition to an Asian restaurant or any Oriental themed decor.

Please note that one of the characters has loosened off with time, but it's not noticeable. Otherwise this piece is in great condition. I have a couple of more close up pictures that I can send via email.

Asking $1,000, cash or PayPal only. Pick up only from Katy area. Email xp.trust@gmail.com if interested.
---
I buy Chinese coins. Panda, Lunar, All mnobles@noblesmuphy.com 281-807-4400
---
25 Years SELECTIVE COLLECTING = QUALITY Inventory! GLASS, Ceramics, Decorative SMALLS, Antiques, Collectibles, Original Ads, Classic Radios, Clocks, Art n MORE! Deco, Nouveau, Arts n Crafts, Retro, Victorian, Vintage! Nostalgic, Rare, Hard-2-Find, OOAKs! Find It All HERE! Email: ny2tx1978@yahoo.com.
---
50 million year old fish fossils, perfectly preserved, set in marble, great antique, from $900 and up. Call to have me send photo or info. ronharris121@cox.net.
---
All God's Children retired figurines from $25, offers accepted. Call Heather 361-442-3227 or email heather@sullivanmail.gotdns.org if interested.
---
Hand carved tortoise very attractive and may be very good for your homes, offices and other sites. It was carved out of padouk wood. You can also contact me more wooden carvings of elephants and other animals. Email akon_baptistmission@yahoo.com for more info.
---

Rare find very old green dragon ornamentation from building. Weight appx 300lbs, height appx 45in,lengh appx 45in. beautiful condition asking $3500.00 OBO seller motivated. Beautiful piece for your home or business. Call 832-860-2955 or email marsillosinc@aol.com if interested. (Click photo to enlarge)
---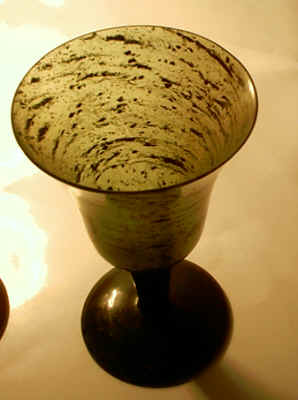 Authentic Chinese luminescent cups which was called "the pearl on the Silk Road" by ancient Chinese are available. It has a history of over 2000 years and can also be used as regular dinner ware. The "Luminescent Cup" is a good and high quality craftwork, made from fine jade after delicately grounded and polished. 100% handmade, very unique style and has different colors such as dark green, light yellow, egg white etc. The most magical thing about this cup is after it is filled with wine, it will be beautifully luminescent under the lights. It's not only a fancy dinner ware but also a perfect gift for people who love Chinese culture. Please contact xjjius@yahoo.com or 713-417-4783 for wholesale information.
---
Giant African Village Chieftaincy crafts with brass, available with surrounding components also made of brass. Created in the 80s.For sale at affordable price. From the Cameroon crafts societies. Contact paulojumy@yahoo.com for more information.
---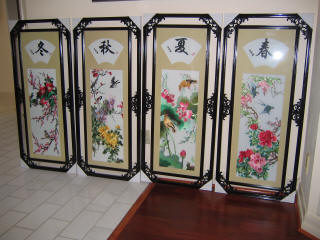 Four Seasons Chinese Embroidery with frame for sale. Price:$690.00 or best offer. Location in Houston, will ship outside of Houston. Email- christy_jadec@hotmail.com for more details.
---
WANTED URGENTLY by serious collector, willing to pay a high price: old or antique CHINESE porcelain INK PASTE BOXES!!!!!!!!!! Email: noordberch@wanadoo.nl.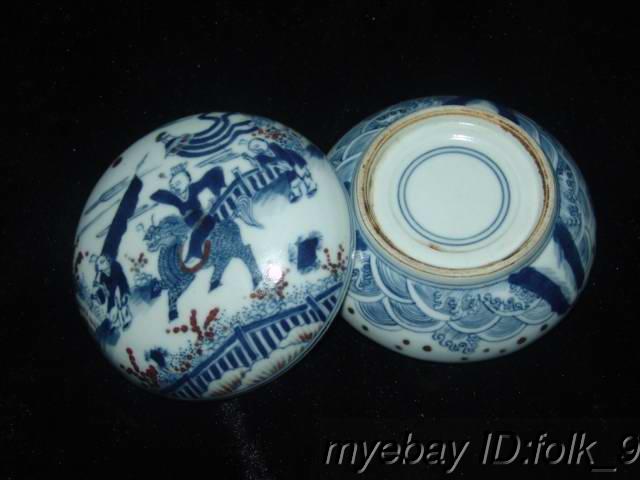 ---
A whole set of homies 8. Contact raymond@adreamstore.com for more details.