Search
Related Articles
Sponsor Ad
Chinese Culture >> Chinese Society Traditions >> Chinese Bakery
Chinese Bakery
Chinese bakeries in big cities like Hong Kong, Guangzhou, Shanghai, and across the world in Chinatowns, serve traditional Chinese goods (such as mooncakes, sun cakes, and wife cakes) and western-styled goods with a Chinese influence (such as cocktail buns and egg tarts). Tea, coffee and other drinks may some times be served too.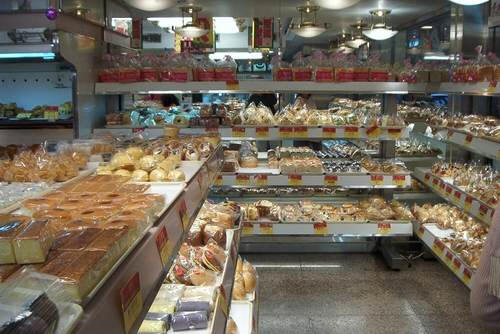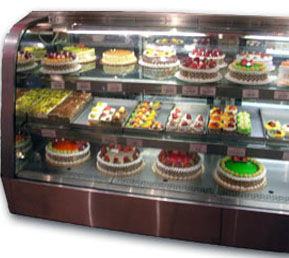 There are generally two types of Chinese bakeries: Hong Kong styled bakeries and Taiwan styled bakeries. The baked goods in these two types of bakeries differ although they may sell some of the same goods. For instance, the Bread Cake was developed in Taiwan styled bakeries while the cocktail bun is a Hong Kong styled bakery product.
Some Delicious Baked Goods:
Cha Siu Baau (Roast Pork Bun): This bun can be steamed or baked and is filled with roast pork and onions.
Pineapple bun: This bun does not contain pineapples. Instead, it has a tender crispy, sweet, golden crust and is often served hot, with a thick pat of butter in its center.
Pineapple filled bun: Like a pineapple bun, except with pineapple filling.
Egg tart: This is a delicate pastry tart with a lightly sweet golden egg custard filling.
Lotus Sesame Roll: Red lotus surrounded by moist rice and covered in sesame seeds.
Red Bean Roll: Red bean surrounded by moist rice and covered in sesame seeds.
Pandang Cake: Flat green gelatinous rice cake.
Wife cake: A round flaky pastry with a translucent white winter melon paste center.
Mooncakes: A heavy lotus seed paste filled round pastry usually with an egg yolk or two in the center. Served at the Mid-Autumn Festival.
Rice cake: Rice cake resembling angel food cake.
Steamed Milk Bun: Angel food cake made with condensed milk.
Curry Beef Puff: A delicate half moon of pastry surrounds a savory curried beef center.
Glutinous rice balls dusted with desiccated coconut: A sweet, sticky ball of coconut-infused rice flour dough is often filled with a black sesame filling.
Sesame Ball: Glutinous rice balls deep fried with sesame seeds on the outside. Sometimes filled with red bean or meng bean paste (Vietnamese style).
Mango Pudding: A sweet, creamy gelatinous pudding with mango.
Chinese Almond Cookie: A golden, delicate cookie with a light almond taste.
Taro Roll: Taro in half-fist sized roll resembling a tumbleweed.
Peach (Longevity) Bun: Steamed bun shaped to look like a peach (symbol of longevity) and filled with red bean paste.