Chinese New Year for 2006 is on 1/29/2006
What are the Chinese New Year activities for celebrating Chinese New Year? Let's start at the beginning...

In China, Chinese New Year is called the Spring Festival or Spring Festival Celebration. That's because the first day of Chinese New Year falls on the start of spring. The beginning of spring is a fresh start… It's the start of a new year of sowing and reaping. A wish for a good harvest in the year ahead. (That's how the Chinese character for "year" nian2 年 came about.)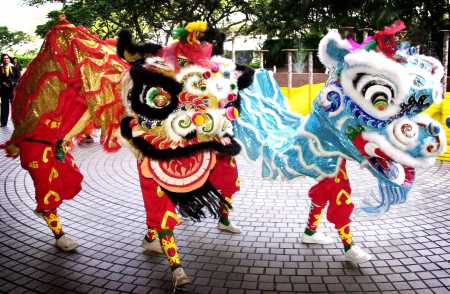 A cause for celebration, Chinese New Year celebration! All around the world, Chinese families... put up Chinese New Year scrolls on both sides of the door, set off firecrackers (It's illegal in many Chinese cities now, but people do it anyway) and married adults give children red envelopes filled with "lucky money".
Chinese New Year celebration and activities begin 2-4 weeks before the "big day". Here's what you can do to celebrate Chinese New Year. It's what Chinese families do all over the world.
1. Clean up the house. Select a day and together with the family, clean up the house. This ritual gets rid of bad luck in the ending year and welcomes in good luck in the new year. Just remember not to do it on Chinese New Years day. Cleaning the house on this day especially sweeping means bad luck.
2. Send greeting cards. Send greeting cards with new year wishes to friends, relatives and colleagues. Remember to post your greeting cards early!
3. Go shopping. Go shopping to buy new clothes for the whole family, food and sweets, and festive home decorations. Looking for Chinese New Year activities for kids? Take them to the mall or go watch a movie.
4. Get ready some red packets. You'll need them later. Of course for cash purposes only.
5. Decorate the house. Hang Chinese New Year scrolls called spring couplets on both sides of the door to usher in good wishes for the new year. Paste paper cuts of upside down good fortune "fu" characters, happy children and tangerine oranges on the wall. Make sure you have vases of flowers in the house during Chinese New Year. They do more than just add a new year atmosphere to the home. Living plants symbolize growth and flowers represent wealth and prosperity. Plum blossoms can be arranged together with bamboo and pine. They stand for endurance, nobility and longevity. Other favorite flowers are pussy willow, azalea, peony and water lily or narcissus.
6. Prepare the reunion dinner. Gather your family together for this most important and sumptuous meal of the year on Chinese New Year's eve. Prepare a meal with auspicious dishes like chicken, fish, oysters, dumplings, green vegetables and noodles. They have meanings of prosperity, longevity and abundance. Visit Chinese recipes to view some Chinese New Year recipes and Chinese New Year Food for a list of what different foods symbolize.
7. Pass the year. After a hearty meal, stay up late to "pass the year" guo4 nian2 过年, an ancient tradition. You can watch TV, play card games, or chat. After midnight (or on the morning of Chinese New Year's day), give your children the red envelopes filled with money (called "lucky money"). Put the red packets under the pillow of children. This is said to ward off evil.
8. Send New Year greetings. Call up friends or SMS them on the morning of Chinese New Year and wish them Happy New Year, Good Health and Prosperity. Visit the homes of friends and relatives with two big tangerines. Bring red packets to give to the children at the homes you're visiting.
These are eight different ways to have a roaring Chinese New Year celebration with family and friends! The number "eight" is also the most auspicious number for Chinese people. It means wealth and prosperity.
Here's to your good health and prosperity in the New Year!