Early 20th Century China
(Year: 1911-1949)

Frustrated by the Qing court's resistance to reform, young officials, military officers, and students--inspired by the revolutionary ideas of Sun Yat-sen--began to advocate the overthrow of the Qing dynasty and creation of a republic. A revolutionary military uprising on October 10, 1911, led to the abdication of the last Qing monarch. As part of a compromise to overthrow the dynasty without a civil war, the revolutionaries and reformers allowed high Qing officials to retain prominent positions in the new republic. One of these figures, General Yuan Shikai, was chosen as the republic's first president. Before his death in 1916, Yuan unsuccessfully attempted to name himself emperor. His death left the republican government all but shattered, ushering in the era of the "warlords" during which China was ruled and ravaged by shifting coalitions of competing provincial military leaders.
Advertisement
In the 1920s, Sun Yat-sen established a revolutionary base in south China and set out to unite the fragmented nation. With Soviet assistance, he organized the Kuomintang (KMT or "Chinese Nationalist People's Party") along Leninist lines, and entered into an alliance with the fledgling Chinese Communist Party (CCP). After Sun's death in 1925, one of his protégés, Chiang Kai-shek, seized control of the KMT and succeeded in bringing most of south and central China under its rule. In 1927, Chiang destroyed the CCP's party organization and executed many of its leaders. The remnants fled into the mountains of eastern China.
Finally, driven out of their mountain bases in 1934, the CCP's forces embarked on a "Long March" across China's most desolate terrain to the northwest, where they established a guerrilla base at Yan'an in Shaanxi Province.
During the "Long March," the Communists reorganized under a new leader, Mao Zedong (Mao Tse-tung). The bitter struggle between the KMT and the CCP continued openly or clandestinely through the 14-year long Japanese invasion (1931-45), even though the two parties nominally formed a united front to oppose the Japanese invaders in 1937. The war between the two parties resumed after the Japanese defeat in 1945. By 1949, the CCP occupied most of the country.
Chiang Kai-shek fled with the remnants of his KMT government and military forces to Taiwan, where he proclaimed Taipei to be China's "provisional capital" and vowed to re-conquer the Chinese mainland. The KMT authorities on Taiwan still call themselves the "Republic of China."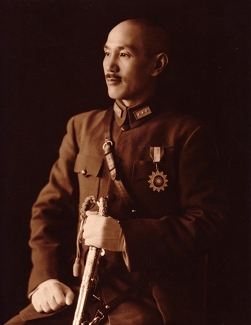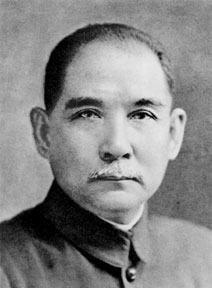 Chiang Kai-shek Sun Yat-sen
Chinese Dynasty Quick Links
Tang Dynasty
Xia Dynasty
Western Zhou Dynasty
Eastern Zhou Dynasty
Shang Dynasty
Qin Dynasty
Han Dynasty
Three Kingdom Dynasty
Sui Dynasty
Song Dynasty
Yuan Dynasty
Ming Dynasty
Qing Dynasty
Early 20th Century China