A Brief History of Taiwan
The Neolithic Age began on Taiwan about 7,000 years ago. Archeologists have found Neolithic artifacts throughout the island that share similarities with clay objects discovered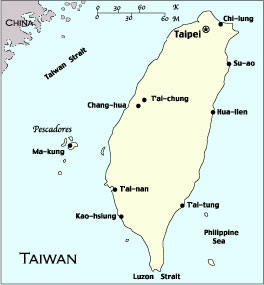 along the southeastern coast of China. Items form the early Tafenkeng Culture can be found throughout Taiwan's eastern coast. Larger stone implements are from the later Chilin Culture and Peinan Culture. Archeologists believe the ancestors of Taiwan's indigenous peoples made these relics.
Before the mass migration of people to Taiwan in the 17th century from Fukien and Canton Provinces along the southeast Chinese coast, Taiwan was solely the domain of aboriginal peoples. While considered part of the Autornesian-language ethnic group by ethnographers, Taiwan's indigenous peoples had distinct languages, material cultures, and social structures. In the 19th century, ethnographers believed that aborigines came to Taiwan at different times and settled in various places after journeys from the south (such as modern-day Philippines and Indonesia), aided by sea currents and seasonal winds. However, the theory that tribes in neighboring regions to Taiwan's southern flank originated from Taiwan has gradually gained the upper hand in the last decade.
In the middle of the 16th century, Western European sea powers arrived in the seas off East Asia. Once the Spanish occupied Manila, the East China Sea and South China Sea became lively regions for adventuresome traders and pirates. Given this sort of background, the island of Taiwan became an object of competition for Europeans, Chinese, and Japanese. In 1624, the Dutch East India Company established a foothold in the Tainan area as a center to trade with China. Contract laborers came to Taiwan from Fukien Province on the mainland to produce tropical crops such as sugar cane and rice. As the Dutch East India Company continued to sell special permits for the sale of various commodities and proselytized the aboriginal peoples, this could be termed the first appearance of a quasi-governmental presence on Taiwan.
In 1662, Cheng Chen-kung, who was defeated while resisting the new Ching dynasty in China fro coastal Fukien, retreated to Taiwan and forced the Dutch out. Cheng's forces consisted of pirates and trader adventurists who circulated around Asia in the latter half of of the 17th century; yet once they arrived in Taiwan, they established the island's first Chinese-style regime. During the period of dynastic transition on the Chinese mainland, a steady stream of Chinese living along its southeast coast sought refuge on Taiwan.