Search
Related Articles
Sponsor Ad
Chinese Culture >> Hungry Ghost Month
Hungry Ghost Month
SINGAPORE (Reuters) - It's the time of the year many Chinese businesses dread -- the hungry ghost festival, when families avoid moving house, couples postpone their wedding plans and tourists shy away from beach resorts.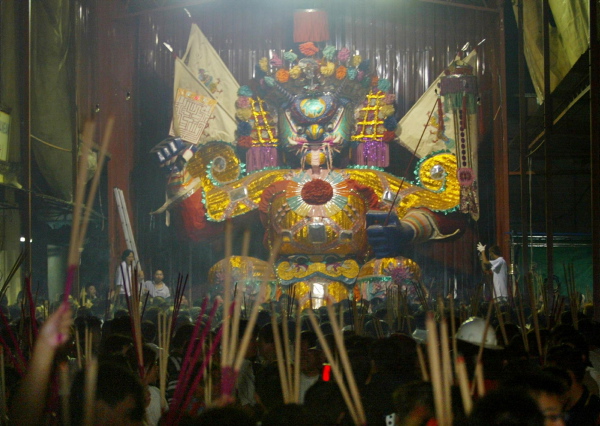 But businesses may be hit by a double whammy this year due to an oddity in the Chinese lunar calendar that results in two "seventh" months -- also known as the hungry ghost festival or Mid-Summer Ghost Festival when the gates of hell open and the dead walk among the living.
The festival is widely observed by Chinese in Hong Kong, Taiwan, Singapore, and Malaysia, home to many Taoists and Buddhists, who believe that the living are supposed to please the ghosts by offering them food and burning paper effigies of homes, maids and other daily items for spirits to use in the after-life.
For those who maintain these traditional beliefs, all sorts of activities may grind to a halt. In modern but still superstitious Hong Kong, people have begun to wind down their usually frenzied nightlife.
"All unusual activities must stop. I have ordered my husband to go straight home after work," said Winnie To, an executive at a foreign company.
In Taiwan, property and car sales usually enter a lull period during the festival, prompting retailers to provide generous offers or discounts to try to boost sales by appealing to the younger generation which is less superstitious. "When we were young, our parents used to tell us not to go to the beach during the "hungry ghosts" festival because they were afraid that we might be captured by ghosts in the water," said Kate Peng, 32, who owns a drinks stall in Taipei.
Few people in mainland China, especially in urban areas and among the younger generation, follow ghost month traditions. Many superstitions and traditional practices were stamped out during the 1966-76 Cultural Revolution, because the Communists frowned on them as relics of China's feudal past.
But it's not all gloom for Chinese during these two months. For some Singapore gamblers, this is a rare opportunity to hunt for lucky numbers to play the "4-Digits" (4D) lottery. "People will often use this chance to ask ghosts for lottery numbers," said Lee Inn Peng, a Taoist medium who has been practicing for 21 years. "These people are desperate, and will try anything. Sometimes they are at the graveyards with talismans, burning offerings asking for numbers." In Singapore, where 75 percent of the population is ethnic Chinese, business associations often run street performances, known as "getai," to entertain the living and the dead. Traditional female Getai performers will dress in more conservative outfits and costumes while the younger may tend to wear more revealing outfits and sexy costumes like those found here.
Apart from inviting popular singers from overseas to perform, these "getai" shows also include auctions for auspicious items such as oranges, pineapples and charcoal -- which are associated with wealth in Chinese, and which are stacked on gold-tinted plates and elaborately wrapped in red ribbons. "Some people will bid up to S$10,000 ($6,300) for these items because they believe it will bring them good luck," said Aaron Tan, who runs a company that organizes street performances. Low said these items are usually packed with a slip of paper with several sets of four numbers, so that winners of the bid can use those numbers to bet in the 4D lottery.
"There are people who have struck lottery on these numbers and believe it is time to pay back the spirits who have helped them, so they don't mind paying a high price at the auctions," Low said.