Search
Related Articles
Sponsor Ad
Chinese Culture >> Taiwan Culture >> Taiwan
Taiwan Geography
The Republic of China (ROC) Government currently controls Taiwan, Kinmen and Matsu areas. The Taiwan geographical area with 36,006 square kilometers includes Taiwan proper, the Penghu Islands, Lyudao Island, Lanyu Islet, and Diaoyutai Archipelago.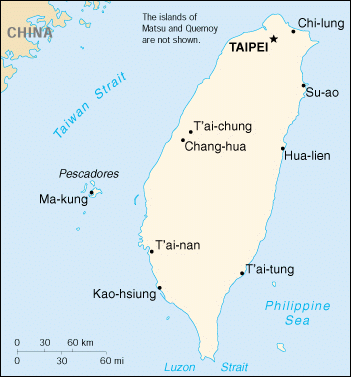 Taiwan, also know as Formosa, is an island about 160 kilometers off the southeast coast of mainland China. It is separated from Fukien Province on the mainland China by the Taiwan Straits. The island measures 394 km long and 144 km wide at its widest point. The Central Mountain Range slopes gently to a broad and fertile plain in the west. In the east, the mountains descend precipitously to the Pacific. The island's uplands are so extensive that only about one-fourth of Taiwan is stable. Shorelines are fairly straight and good natural harbors few. Rivers are short and useful for power generation, but not for navigation. Physiographically, Taiwan has five major divisions: the central mountain range, volcanic mountains, foothills, tablelands, and coastal plains and basins.
The Kinmen and Matsu, with 182 square kilometers, are two island groups just off the mainland China.