by: Susan Yip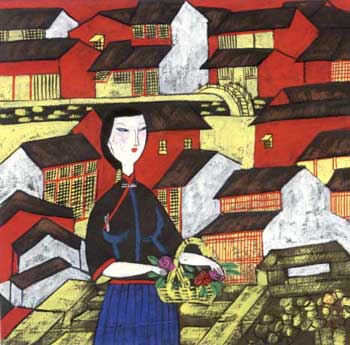 Chinese embroidered paintings are entirely hand embroidered with silk threads by embroidery craftswomen in Suzhou, China. The embroidered paintings are comparable oil paintings in colors and are as realistic as photographs.
Mounting a Chinese embroidery painting is an art in itself. There are two ways of mounting a Chinese hand embroidered painting: hard mounting and soft mounting.
1. Hard Mounting a Chinese Embroidered Painting
Glue a finished embroidery piece on a piece of wood veneer and make it smooth and solid on the panel. Make frames according to the panel size. The frame materials can be wood or imitation wood as to your preference. Cut a piece of glass cover according to the frame size. (optional) Assemble all pieces together and that is a framed Su embroidery painting. The hard mounting technique is really easy to master.
2. Soft Mounting a Chinese Embroidered Painting
Mounting a finished embroidery piece on paper with a silk border. It is suitable for large pieces - making them easy to carry. The soft mounting technique is relatively difficult to master. A piece with soft mounting is more valuable due to the nature of the mounting technique.