Hot Technology: Portable Media Player
Intechip MP4 Star-150 - 20GB Portable Media Player
It can record from your TV, VCR, and DVD player by kinescope card, cable or satellite box. Make scheduled recordings Store up to 50 hours of video, 40 movies,5000 songs or 200,000 photos Transfer photos directly from your PC using the USB host port Play MPEG-4 files Play TV recorded shows, movies and home videos on a 3.6" TFT LCD color screen, your TV or any external screen. MSRP: $399. Sale Price: $299.

Click here for MP4 Star-150 Portable Media Player Specs

Click here to purchase the MP4 Star Portable Media Player.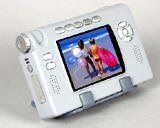 Intechip MP4Star Portable Media Player - 40GB
Plays video, music, FM radio. View images and photos. Digital camera, digital camcorder. Digital video recorder (DVR), voice recorder. Also can be used as a external hard drive. MSRP: $499. Sale Price: $299.

Click here for MP4 Star Portable Media Player Test and Review.

Click here to purchase the MP4 Star Portable Media Player.
What is a Portable Media Player?
Portable media center is a term for a handheld multimedia device that can play digital music, image, and movie files that have been downloaded from the Internet or stored on a personal computer. Portable media centers are manufactured by several vendors, including Samsung, Creative Labs, and iRiver International, and new comer Intechip. Media player versions include Microsoft's Media Player and Linux.
Devices referred to as portable media centers are typically similar in size and shape to a small paperback book and run on rechargeable batteries. The playing time per battery charge depends on the type of content played, ranging from about 7 hours for movies to 20 hours for music. Portable media centers include small full-color displays; an early model measures about 10 cm (4 in) diagonally. A typical device can store thousands of songs, tens of thousands of image files, or several dozen full-length movies.
Apple MacBook Pro Laptop (MacBook Pro Review)
The new MacBook Pro features a 67-percent brighter 15-inch display, which is now as bright as Apple's Cinema Displays, and offers a completely new system architecture for faster performance, including a 667 MHz front-side bus that is four times as fast as the PowerBook G4 and 667 MHz DDR2 SDRAM memory expandable to 2GB that is twice as fast as the PowerBook G4. Each MacBook Pro comes standard with ATI Mobility Radeon X1600 PCI Express graphics, with either 128MB or 256MB of dedicated GDDR3 graphics memory. Each MacBook Pro includes built-in Bluetooth 2.0+EDR (Enhanced Data Rate), integrated AirPort Extreme 54 Mbps 802.11g WiFi wireless networking,** a scrolling TrackPad and Apple's Sudden Motion Sensor that is designed to protect the hard drive in case of a fall. Also featuring an Intel Duo Core processor, a stunning aluminum enclosure just one inch thin, weighs only 5.6 pounds, includes a built-in iSight™ video camera for video conferencing on-the-go, and the Apple Remote and Front Row™ software for a simple, intuitive and powerful way for users to enjoy their content wherever they go.
MacBook Pro - 1.83GHz Intel Core Duo