Xiao long bao, literally "little basket bun" , is a type of
baozi
(filled bun or bread-like item) from Shanghai, China. Xiao long bao are traditionally steamed in bamboo baskets, hence the name. It can be filled with hot soup and meat and/or vegetarian fillings, as well as other possibilities. The fillings are wrapped in something like a jiaozi wrapper that turns almost translucent after being steamed. Shanghai steamed buns can be recognized by their unique design, as the filled wrapper is gathered up into fine folds at the top, prior to steaming.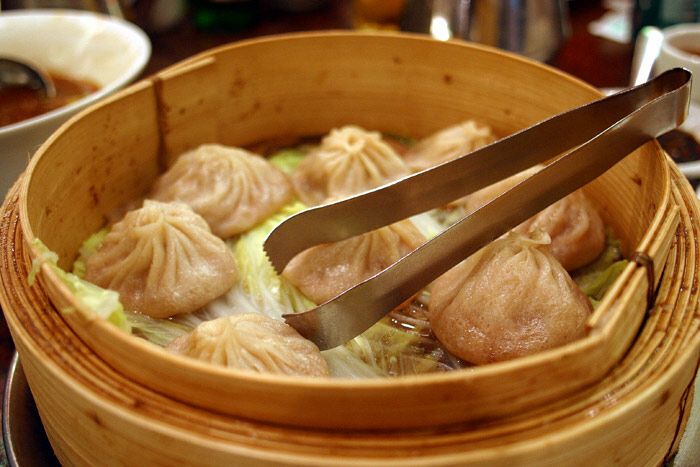 They can be eaten at any meal in Chinese culture, and are often served in restaurants that have dim sum service. The xiao long bao is also popular when eating jiaozi or with Shanghai La mian.
To eat these, peel the dumpling off the lettuce or cabbage leaf taking care not to break the dumpling skin and deposit it into a Chinese soup spoon, which is usually provided, adding the vinegar provided as desired. Some places may also have shredded ginger. Take a small bite of the skin, allowing some of the broth to drain, and drink a bit of it. Then eat the rest of the dumpling from the spoon. Doing so will allow you to savor the taste without scalding the tongue.
The soup inside is created by placing some meat gelatin inside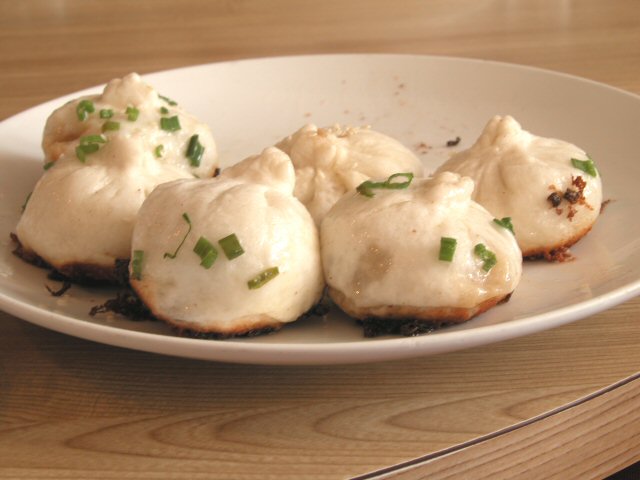 the dumpling before steaming. The steam heat melts the gelatin into soup.
Sheng Jian Bao is like a bao zi in that it has a meaty filling inside roughly shaped like a xiao long bao but pan fried. Its origins are from Shanghai.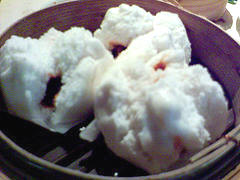 Char Siu Bao, a.k.a Chinese Barbecue Pork Buns, are fluffy, white buns that are commonly served at Chinese restaurants during dim sum. At their best, Char Siu Bao are soft as a pillow and filled with a savory mixture of minced Chinese barbecue pork (char siu), soy sauce, oyster sauce, scallions and sugar.