Portable Media Player : Test and Review
MP4 Star Review and Test
We had the opportunity to get our hands on a MP4 Star portable multimedia player. Our first impression was wow, how did they fit all these features into a fairly portable machine. The machine fits in a palm nicely. The machine is not designed to be a beauty pageant winner though. It is designed for functionality over looks.
Lets have a look of the portable multimedia player: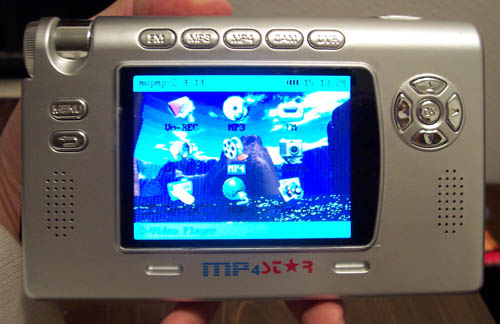 First off, you can see that it will fit in an average person's palm. The media player will not win for looks, but it is full of functions and features. Let us take a look from different angles of this machine: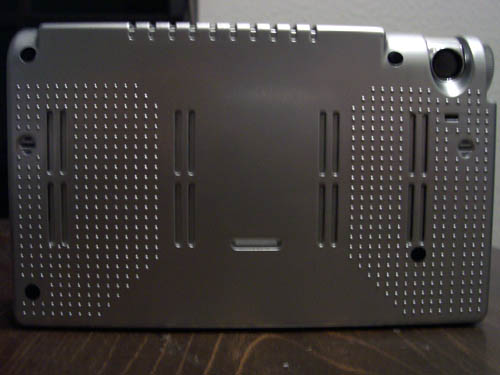 Here is a frontal shot of the MP4 Star. The entire machine has a silver tone. Notice the rotating 180 degree camera lens to the upper right. Also one of the many good feature this player has is the hand grips (left and right) so when you take a photo or use it as a camcorder, it would be less prone to slippage. Again functionality over looks. *Note: the two built in microphones (left and right)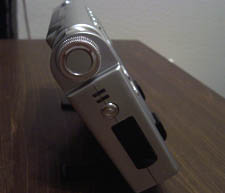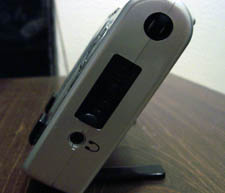 Here are the side views of the MP4 Star. On the left side you have a USB connection and the power adapter plug-in protected by a rubber hinge. On top of that, you have a power button which you have to hold down for three seconds to turn on and to turn off the machine. And on top of that, you have power and charging indicator LED. On the right side, you have your AV in/out connection ports protected by a rubber hinge and a headphones port. Notice the desk stand, included, that makes it a nice addition for work or a home office or on your nightstand by the bed.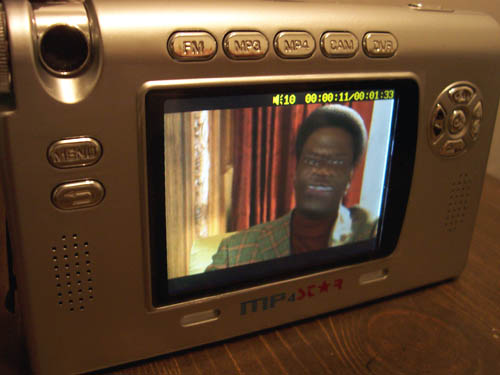 Here is a shot of the MP4 Star's playing Charlie's Angel movie. The image quality is very good, DVD-quality like on the 3.5" TFT LCD screen (the blur is because of my digital camera and not the player). The colors are vivid and bright, contrast ratio is high, and the picture is clear. Another thing we liked are the stereo speakers on this machine. It is very loud but not overbearing and is very clear unlike other players.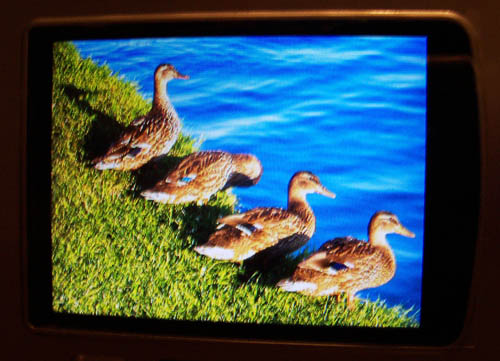 Here is another shot of the picture quality using the MP4 Star photo viewer. Very clean, crisp, bright, and colorful. This has to be one of the best LCD screen on a media player we have seen.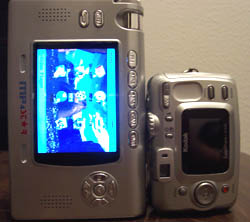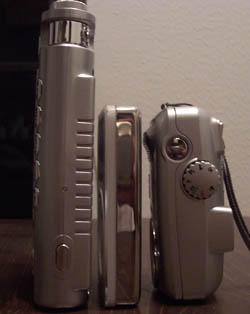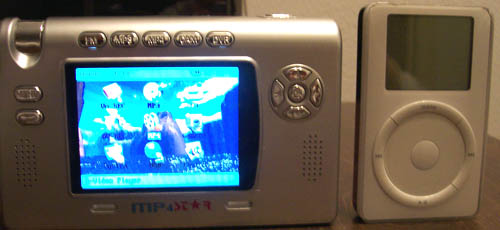 The size of this player is not overly big. Here you can see a comparison of the size between the MP4 Star, Kodak Digital Camera, and an Apple iPOD. The MP4 Star weighs ~13.4 oz. so it will not fit into your pocket but it does include a handy wrist strap.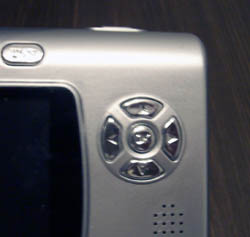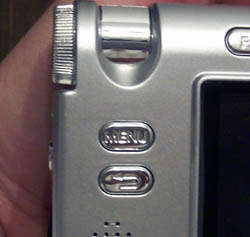 Here are the controls. On the right of the machine, you have a joystick-like pad. They are clearly labeled and firm when pressed. However, they have a plastic feel. One the left side of the machine, you have your menu button and the go back button. It took us awhile to figure out that the second button was to "go back" though. On top of the menu button is the rotating 180 degree camera lens.

Here are the quick launch buttons. You have FM, MP3, MP4, CAM, and DVR quick launch buttons. This is a good feature MP4 Star incorporated since they are used more often. Again, the buttons feels firm when pressed but at the same time a plastic feel to it.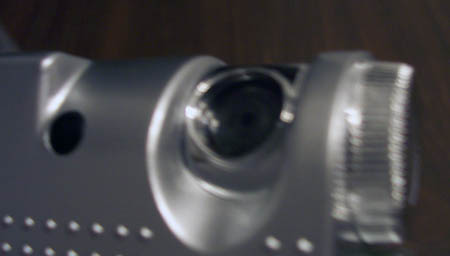 The cool and extra feature the MP4 Star incorporated in this multimedia machine is a 180 degree rotating cameral lens. Even though it has a max 1.3 mega pixel rating, it is a good feature to have especially since this machine is portable and can be used as a average digital camera or camcorder. One thing we would like to see in the future is an integrated flash for taking night shots.
Test
Digital Camera Function: First off, I decided to take a look at the MP4 Star Portable Multimedia Player digital camera capabilities. The first thing I noticed was the lack of flash so night and dark shots would be problematic without proper lighting. Second thing I noticed was the lack of zoom. There are three upsides though. One, the camera has two built-in settings, inside and outside which can automatically boost up the contrast and brightness of the picture. The second good feature is that the camera lens can rotate the image to be taken up, down, left, and right. Very nice touch for those hard to reach shots. The third positive is that the lens can be swiveled 180 degrees so you can take self photos. Below are pictures taken with this machine: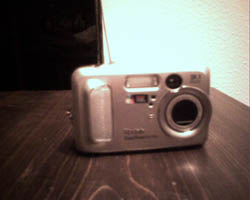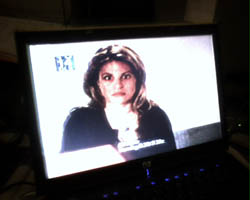 The pictures are not spectacular considering this is only a 1.3 mega pixel camera. Color is decent for the cameras in this class. To us, this is a bonus feature and should be treated as such.
Digital Camcorder Function: For this test I recorded a 9 second test clip (will need to have Divx codec installed on your player to view) using the camcorder function. Again, one thing to remember about is lighting. The more lighting, the better the recording. Night time and dark recordings will not be very clear. However, the recording is very simple and easy to operate. A click of the DV-Rec icon in the main menu and you are ready to use the digital camcorder. It is a very basic camcorder and lacks zoom or any types of adjustment functions. My recording test was decent. Lack of lighting was the biggest issue. This camcorder is fine for those ordinary, spick of the moment recordings. Click here to view the recorded file.
Video Playback Function: The MP4 Star portable multimedia player plays all types of video files. You can view your traditional MPG, AVI, ASF, MP4, Mpeg1, Mpeg2, and your more exotic XviD and Divx (3.x, 4.x, 5.x) video files.
Music Playback Function: You can play MP3, WMA9, IMA, and AAC audio files on this machine. The built in stereo speakers are very good. The MP4 Star also comes with earphones which sounds decent. Our test version's headphone did not work for the left ear but hopefully it is just our test machines problem.
FM Radio Tuner: Another bonus feature we really liked is the built in FM Radio tuner. Here is where the Ipod and other brands lack. We love our radio stations here so this is a plus for us.
Digital Video Recorder: One of the strong points for the MP4 Star media player is the ability to record TV shows, movies from DVD or VCR onto the machine and watch on the go. Now I can take my favorite DVD movie and record my favorite TV show and watch it on the airplane. Or I can record my show and play it back on my TV for later viewing. It is just a really cool and practical feature to have nowadays. I recorded a TV show and it looked as good as on TV.
Image Viewer: Pictures looks nice on this machine. The 3.5" LCD is vibrant and crisp displaying photos. The built in image viewer also has slide show function.
Battery Life: Battery life is very good. You can watch about 4 hours of video before running out of battery. The built in battery saver shuts off the LCD screen when not in use (of course user adjustable). Listening to music before running out of batter is about 7 hours.
Finally, other functions like the voice recorder is very good. You can also use the MP4 Star portable media player as an external hard drive for backup and storage. Just plug in the USB and Windows automatically treats it as an external drive. Drag and drop your media files into the pre-created folders and play your media files on the go. It is that simple and no need to install any software.
Pluses:
Beautiful Screen
Excellent functionality
DVR works great
Crisp and loud speakers
Built in digital camera and camcorder
FM Radio Tuner
Minuses:
Ordinary design
Plastic feel
Audio player is very simple, no playlist function
Battery not user replaceable
Final thoughts: The MP4 Star is a very capable portable media player. Not as pretty as others on the market, functionality is the main selling point for this product. The LCD screen is gorgeous and video, audio playback is nice and clean. We loved the DVR and the built in camera/camcorder. The MP4 Star is full of gadgets all stuffed into one portable machine. Despite its book-like design, think about all the space you can save by not having to bring your camera, camcorder, and portable DVD player on your next trip. The price is very reasonable, $399 which is cheaper than the Archos family of portable media players.
You can purchase it here.