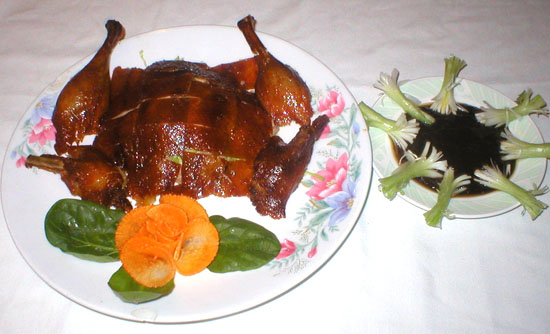 History
The origin of the Peking Duck dates back to the Ming Dynasty, about 600 years ago. Cooks from all over China traveled to the capital Beijing to cook for the Emperor. It was a prestigious occupation as only the best chefs could enter the palace kitchens. A top cook was even able to reach the rank of a minister! It was in these kitchens where dishes of exceptional quality such as the Peking Duck was first created and crafted to perfection by palace chefs. However, many of the recipes for such foods of the Emperor were later smuggled out of the kitchen and onto the streets of Beijing. With the eventual fall of the Ching dynasty in 1911, court chefs who left the Forbidden City set up restaurants around Beijing and brought the Peking Duck and other delicious dishes to the masses.
The Dish
Peking Duck is originally from Beijing, which is the capital of Mainland China. It is prepared with a kind of fruit tree, so it has a fruity flavor. Its skin is very crispy. You also eat it in a very special way. First you need to use a special bread. Then you can start your tasty meal. Usually, you cannot finish a whole Peking Duck, so you can make soup with the leftovers.
Most Chinese people are very fond of Peking Roast Duck. You can go to a Chinese restaurant to order this dish rather than prepare it at home because it takes some time to cook it, and you need a lot of things to prepare it.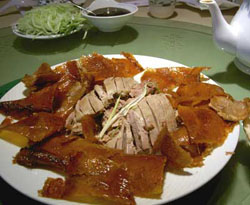 The duck is divided into three parts and made in three different ways. The first way is the most popular. The meat is selected from the best part of the duck and is boned. Green onions and dressing are added to make it savory and a little sweet. It is served with thin crepes. You just spread the dressing on the crepe, add some green onions, and roll it up.
The second way is to use the part of the duck with less meat. It can be fried with garlic, chilies, ginger or onions. A third way allows you to make use of the entire duck. You can make soup with cabbage and the duck meat with bones.
I would recommend you try it if you want to try something different. Once you try it, you will understand why this dish is loved by so many. You can try Peking duck at any of the following Chinese restaurants in Houston listed below.
| | | | | | |
| --- | --- | --- | --- | --- | --- |
| Restaurant Name | | Phone Number | Address | City | Zip |
| | | | | | 77036 |
| Red Pepper Chinese Restaurant | | (713) 622-7800 | 5626 Westheimer Rd | Houston | 77056 |