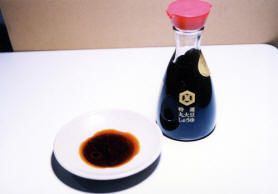 Festivities marking the Lunar New Year 2005 -- the Year of the Rooster-- have just ended. But that's no reason to put away the soy sauce. Whether your kitchen turns out gourmet burgers, signature roasted fowl, crusted fish or authentic Asian specialties, soy sauce has a role to play. This fragrant flavoring made from fermented soy beans, long a staple in Chinese, Japanese and other Asian kitchens, increasingly is finding its way into the hands of Western chefs, who recognize and value its long-standing role as a flavor enhancer and coloring agent.
Credit for "inventing" soy sauce goes to the Chinese, who more than 2,500 years ago used fermented soybean paste to preserve and flavor foods. In the sixth century, when the vegetarian principles of Buddhism took root in Japan, a Zen priest introduced the paste to the Japanese as a substitute for meat- and fish-based seasonings. Production techniques were refined by the Japanese, who discovered they could draw off the liquid which collected at the top of the barrel to use in addition to the paste. The liquid, called miso-tamari, was a first step toward modern-day soy sauce. Later, Japanese tamari makers found that by adding wheat in equal portions to the soybeans they could produce a sauce with a richer, more balanced flavor profile. The result was soy sauce much as we know it today.
Tamari is still available today and often confused with soy sauce. It is, however, an entirely different product. Darker and thicker, it tends to have a more intense, less salty taste. Since some manufacturers inaccurately call their products tamari soy sauce, read the label to be sure. Soy sauce is made from soybeans, wheat, water and salt. Tamari contains only soybeans, water and salt. Today, tamari is more widely and appropriately used as a dipping sauce rather than a cooking ingredient.
HOW IT'S MADE MAKES A DIFFERENCE
For chefs who want to add the special flavor profile and other attributes of soy sauce to their sauté pans or saucepots, the first step is learning the difference between brewed soy sauce -- such as the Japanese Kikkoman and Yamasa and the Pearl River Bridge brand from China -- and the synthetic soy sauces widely available in supermarkets and tucked into Chinese take-out containers.
In brewed soy sauce the color, flavor and aroma are produced naturally during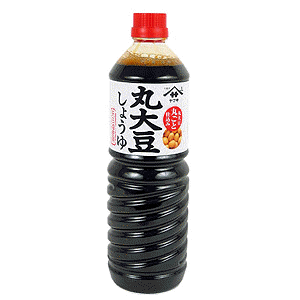 fermentation. The color and flavor of non-brewed soy sauce come from the addition of corn syrup and caramel color to hydrolyzed vegetable protein.
Because the production time for brewed soy sauce is approximately six months, there is ample opportunity for the flavors to develop and meld. Non-brewed soy sauce, which takes just a few days to produce, may have a harsh, unfinished flavor.
Its high amino acid content makes naturally brewed soy sauce a flavor enhancer. It actually heightens the taste of other ingredients. Non-brewed soy sauce can mask and overwhelm the natural flavor of other ingredients.
To experts like Barbara Tropp, founder and former chef-owner of China Moon Cafe in San Francisco, the distinction between brewed and synthetic soy sauces is comparable to the "difference between a fine wine and the wine you see people drinking in alleys," she says. "All brewed soy sauces, by definition, are better than the synthetic ones. In anyone's hands, a naturally brewed soy sauce is fine seasoning."
Brewed soy sauces are made throughout the world, according to Asian formulas. They vary in color, flavor, intensity and viscosity. Light soy sauces are lighter in color, but are full-flavored and good for both cooking and dipping. Dark soy sauces, which are aged longer and have an almost black color, also make good dipping sauces. In cooking, they are best in heavier, more robust dishes like stews.
"In general, Chinese soy sauce tends to be very dark and salty with an earthy aroma," Tropp says. "Japanese soy sauce is brown-amber in color, sweeter and meatier and has a lighter aroma." Chinese black soy sauce, which contains molasses, has a very dark color, is thicker than regular soy sauce, and has an intense flavor. "This is a far stronger product with its own flavor dimension. It's a much less adaptable ingredient, and not for the Western cook just beginning to use soy sauce. It's good with cold noodles dishes and mixed with regular soy sauce in stews and braises. It also can be sprinkled into sautés."
Chinese thick soy sauce comes in a jar and is spooned. Tropp recommends it as a basting glaze for roasted meats and strongly flavored birds. Mushroom black soy sauce, infused with straw mushrooms, has a woody taste and aroma. Tropp uses it with regular soy sauce in sauces and marinades for red meats. "It also is good used sparingly in stir-fries of root vegetables and, of course, mushrooms," she adds.
SUBSTITUTE FOR SALT
Chefs concerned about the sodium content of their food might well reach for a bottle of brewed soy sauce instead of a box of salt. One teaspoon of the dark liquid provides the seasoning equivalent of a tablespoon of salt, with only a fraction of the sodium. "I use very little salt in my cooking," says Don Pringle, executive chef of Renee's on Camano, Whidbey Island, Wash. "Rather than more traditional treatments for roasted meats, like prime rib, I first baste with soy. Then I rub the meat with olive oil, cracked black pepper, garlic and fresh rosemary to make a crust." Pringle uses soy sauce in place of salt in most marinades and sauces. "Soy offers a complexity that salt does not," he says.
Tropp also recommends that chefs who want to lower the sodium content of their dishes even more use products like Kikkoman's "Lite," a reduced-sodium soy sauce. "It has a very full, wonderful flavor that is especially useful for Western chefs experimenting with adding soy sauce to their dishes," she says.
Soy sauce does more than replace the salt shaker in professional kitchens. Its rich color adds eye appeal to a wide variety of dishes. When painted on meat or poultry to be grilled or roasted, it ensures a uniformly well-colored surface. In gravies and sauces, it adds color but no off or artificial flavors.
As a substitute for salt and a natural coloring agent, soy sauce has many applications in the kitchen. Its most valuable addition to all kinds of cooking, however, is its versatility and ability to enhance flavors. "The most important thing to know about soy sauce is that it brings out other flavors, especially in the absence of heavier dairy items like cream," says Tropp, who especially likes soy sauce combined with roasted garlic or roasted onions. She makes a roasted-garlic-soy mayonnaise to use as a sandwich spread, a dip for crudites and as an accompaniment to grilled fish. "A little bit of soy whisked into bottled mayonnaise is great in chicken salad," she adds. "Soy sauce also adds a special touch to scrambled eggs."
Soy sauce has many applications in Mexican and other ethnic foods. A dash will enliven a dish of rice and beans. When combined with pineapple juice, it makes a good marinade for chicken or beef fajitas. Chef-consultant Tim Cushman marinates shrimp in soy sauce and garlic, then grills them for soft tacos served with orange-cilantro sauce and black-bean salad.
In Cushman's recipe and others, citrus and soy sauce are a natural combination. The producers of Texas Sweet Citrus fruits recently released a pasta-salad recipe using soy sauce in the dressing. And, Jeffrey Clark, executive chef at the Northfield Hilton in Troy, Mich., brushes rainbow trout fillets with warm honey, then sprinkles them with a mixture of chopped dried cranberries, granulated garlic and ground ginger. After pouring a tablespoon of off-dry Johannisberg riesling over the fillets, he bakes them and serves them with a bed of mixed greens, walnuts and orange sections. The cranberry-crusted rainbow trout and greens are dressed with a warm orange vinaigrette made from leeks, olive oil, Riesling, dried tart cherries, sugar, orange juice, balsamic vinegar and soy sauce.
Vinegars and soy sauce are another great combination. Tropp uses balsamic vinegar mixed with soy sauce to marinate fresh tuna. Maggie Gin, a former Napa Valley, Calif., restaurant owner who now markets a line of Asian sauces, adds soy sauce to all of her salad dressings. "I especially like it with wine vinegars." Gin, who is Cantonese Chinese by heritage, also adds soy sauce to spaghetti sauce, curries, dishes like beef Bourguignon and all her gravies. "It gives them a richer, wonderful flavor," she says. Gin wouldn't think of making a burger or meatloaf or grilling a steak without soy sauce. To create signature burgers, many chefs add soy sauce directly to the ground beef or add it to mayonnaise, barbecue sauces and other burger toppings and spreads.
Matt Martinez, chef-owner of Matt's Rancho Martinez and Matt's No Place in Dallas, adds soy sauce and brandy or whiskey to a crushed tomato sauce for sautéed quail. For a finishing sauce for beef, poultry, seafood, game and vegetables, he combines one-quarter cup of light soy sauce with a tablespoon of red wine and red-wine vinegar.
Jamaican jerk chicken gets a flavor boost when the marinade is made with soy sauce and coffee liqueur. Experts on the U.S. barbecue circuit often list soy sauce as an ingredient in their pork marinades, rubs and barbecue sauces. For a more upscale pork dish, Christian "Kit" Kiefer, chef-owner of Kiefer's Restaurant in Marrietta, Ga., uses soy sauce, teriyaki sauce and teriyaki glaze to marinate the pork and make the vinaigrette for his Glazed Pork Tenderloin with Mixed Cabbage and WarmTeriyaki Vinaigrette.
Like all seasonings, soy sauce should be used judiciously and experimentally. Different sauces have different properties and different applications. "Chinese soy sauce has a richer, bolder taste than Japanese varieties do," Gin says. "I prefer to use the lighter Japanese sauces for lighter meats like chicken and seafood and the darker, heavier Chinese sauces for red-meat dishes. But there is a soy sauce for nearly every dish. I use it with just about everything except ice cream."