Attractions in Houston, Texas
Houston, the fourth largest city in the United States, has many attractions. Below is a list of Houston, Texas attractions for the whole family to enjoy. (side note: Houston Skyline in a Sea of Fog). Check out a short excerpt: Houston in a Weekend. Also read why Houston, Texas is a great place to visit.
View upcoming events in Galveston, Texas.
Discovery Green is a 12-acre park located in downtown Houston. Visitors can enjoy include a one-acre lake, children's playground, interactive water features, amphitheater stage and slope, small and large dog runs, public art works, HPL (Houston Public Library) Express, open lawns and great restaurants (The Grove and The Lake House) operated by Schiller Del Grande Restaurant Group. Kinder Lake, encompassing more than an acre of the park, features water gardens and a model boat area, a shallow pool specifically designed to accommodate remote-controlled watercraft operated by park goers of all ages (MAP)
Houston Downtown Waterfront Park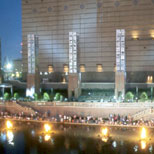 Houstonians are invited to the grand opening of a new 23-acre park in downtown Houston. The Sabine-to-Bagby Promenade is a newly developed stretch along the banks of Buffalo Bayou, featuring jogging and biking trails, lush landscape and most noteworthy, the first of several planned pedestrian bridges to connect the north and south sides of the bayou. Call 713-752-0314 ext.7 for more info. (MAP)
Houston Downtown Aquarium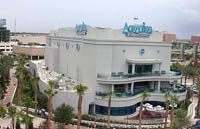 The 7-acre complex houses 5 themed aquaria, including a Louisiana swamp, the Amazon River, and a shipwreck. Features and attractions include an observation tower, a 90-foot Ferris wheel, midway games, a helipad, restaurant, and an acrylic train tunnel running through the massive shark tank. 410 Bagby. Houston, Texas. 713-223-3474. (
MAP
)
Houston Asian Heritage Tour
Tours are held Weekdays and some Saturdays, 10 AM to 2:30 PM. The route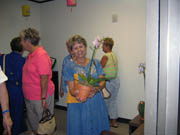 will begin at the Chinese Community Center, 9800 Town Park and continue to Hong Kong City Mall. Then, a dim-sum lunch will be provided at Ocean Palace Restaurant followed by a visit to the Buddhist Temple. Finally, the tour ends at the Chinese Community Center with a tea ceremony. Other featured events may be customized for your tour. It is a perfect opportunity to explore the Asian Culture without having to travel to Asia. Call 832-858-2788 or 713-271-6100 ext. 113 for more information.
Houston Zoo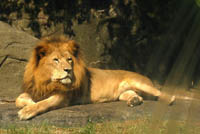 Over 4,500 animals inside the Houston Zoo, exhibits include a tropical bird section, the large and small cat houses, an extensive collection of reptiles (including an albino alligator), the Wortham World of Primates, a two-acre rain forest and natural habitat, and the recently upgraded Children's Zoo, which allows kids to pet various farm animals. The Brown Education Center offers daily exhibits, as well as a "Meet the Keeper" presentation, at which children can learn about the duties of zookeepers. Open daily 9am-5pm. 1513 N. MacGregor, Hermann Park. Houston, Texas. 713-533-6500. (MAP)
Kemah Boardwalk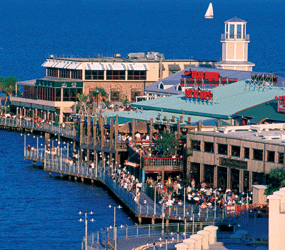 The Kemah Boardwalk has quickly evolved from a waterfront dining experience to a weekend destination. Just 20 miles from downtown Houston, The Kemah Boardwalk is the perfect family get-a-way. restaurant industry: Joe's Crab Shack, Landry's Seafood House, The Cadillac Bar, and The Crab House. Aquarium Restaurant serves guests a great view of our 50,000 gallon aquarium brimming with marine life. The Kemah Boardwalk is also home to The Flying Dutchman, Saltgrass Steakhouse and Babin's Seafood House. Bradford and 2nd Street, Clear Lake, Texas 77565.
Schlitterbahn Galveston Island Waterpark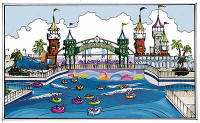 This newly built water park is now open. 70,000-square-foot indoor / outdoor convertible area. This portion of the park operates year-round and includes four tube slides, three speed slides, three kids' activity areas containing a variety of children's play elements and pint-sized slides, a secluded beach, a hot tub and the Torrent® Tidal Wave River. The new Surfenburg area will offer 16 water attractions including two uphill water coasters, a wave lagoon, three beaches, three body slides, the Tiki Tikes kids' area, the Boogie Bahn surf ride, two family raft rides and three different rivers that all connect to form the park's Transportainment® river system. 2026 Lockheed, Galveston, TX. Call 409-770-9283 or visit www.schlitterbahn.com for more details. (MAP)
Official visitor's center for NASA, where simulations allow you to experience what it's like to walk in space or land on the moon. Visitors can also tour the NASA control center. 1601 NASA Parkway. Clear Lake, Texas. 281-244-2100. (
MAP
) Also check out
Space City Houston
for more info.
Houston Museum of Natural Science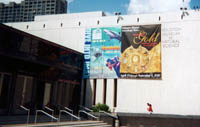 This outstanding science museum has a spectacular collection of mineral specimens, a dinosaur skeleton, space-station models, a planetarium, IMAX theater and a six-story butterfly center in which these beautiful creatures land delicately on outstretched arms. One Hermann Circle Dr., Houston, Texas 77030. 713-639-4600. www.hmns.org. (MAP)
Children's Museum of Houston
Hands-on interactive exhibits in the areas of science and technology, history and culture, health and human development, and the arts. 1500 Blinz Street. Houston, Texas 77004. 713-522-1138. www.cmhouston.org (MAP)
Moody Gardens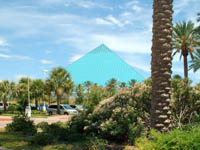 Moody Gardens features a 10 story Rainforest Pyramid offering an incredible tropical environment, and is home to the largest bat exhibit in the Southwest. The IMAX 3D will keep you jumping out of your seat, and the experience is so real you'll reach out to touch what seems to be inches away. Palm Beach offers a white sand beach with a blue lagoon and lots of fun for kids. The Discovery Pyramid features a host of interactive exhibits where visitors can learn about the wonders of science, and take a fascinating adventure ride in the IMAX Ridefilm Theater. Moody Gardens newest attraction, the Aquarium Pyramid, is the largest in the world and features 100,000 square feet of exhibit space showcasing the waters of the world. 1 Hope Blvd., Galveston, Texas. 800-582-4673. www.moodygardens.com (MAP)
Armand Bayou Nature Center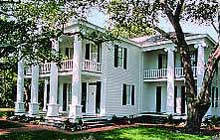 2500 acre nature preserve with turn-of-the-century farm site which has a native plant/heirloom garden. Annual garden tour, occasional native plant sales and landscaping classes. 9-5 Wednesday through Saturday. 12-dusk on Sunday. 8500 Bay Area Blvd., Clear Lake, Texas. 281-474-2551.
www.abnc.org
. (
MAP
)
Houston Arboretum & Nature Center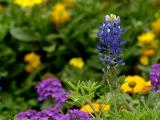 Located on the western edge of Memorial Park, the Houston Arboretum and Nature Center offers an escape from the hustle and bustle of city life and the opportunity to experience the natural world. This 155-acre non-profit urban nature sanctuary provides education about the natural environment to Houstonians of all ages. It plays a vital role in protecting native plants and animals in the heart of the city where development threatens their survival. Visitors can walk five mile of trails free of charge. The Nature Center building includes the Discovery Room with interactive exhibits and activities and the Nature Shop filled with items for nature lovers of all ages. 4501 Woodway. Houston, Texas. 713-681-8433. Admissions: Free. www.houstonarboretum.org. (MAP)