Lemongrass Soup Recipe
8 C. chicken stock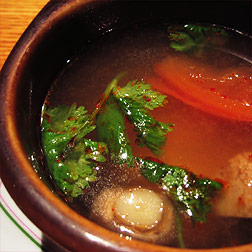 1/2 - 1 bunch cilantro
1 can straw mushroom
16 large shrimps, peeled, deveined
1 C. snow peas
1/3 C. shredded carrots (just for color)
juice of 1 lime
1/2 - 1 tsp. crushed red pepper
1 chili pepper, cut into rings
4 Tbsp. nam plah (you can find at Oriental food stores)
a few stalks of lemongrass (I would use about 6)

Bring the broth to a simmer. Add cruched red pepper and shrimp. Simmer for 5 min. Add lemongrass and simmer for another 5 min.
Add the rest of the ingredients and simmer a few minutes more. Be careful not to over cook or the vegetables will lose their color and will get limp.
Thai Recipes Listed Alphabetically
Chinese Desserts Recipes
Chinese / Asian Recipes Videos
Advertisements

Your ad here

Your ad here