Yield: 1 servings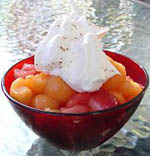 3/4 c (180 ml.) cold water
1 Envelope unflavored gelatin
1/2 c (125 ml.) sugar
3/4 c (180 ml.) boiling water
1 1/4 c (310 ml.) evaporated milk
1/2 ts (2 ml.) vanilla
1/2 ts (2 ml.) almond extract
2 Kiwi fruits, if desired
4 Fresh ripe strawberries, if desired.

1. Measure cold water into small bowl. Sprinkle gelatin over cold
water. Let stand for 1 minute.

2. Add sugar to gelatin mixture. Stir until gelatin dissolves. Pour
boiling water into medium bowl. Stir in gelatin mixture.

3. Combine milk, vanilla and almond extract. Stir milk mixture into
gelatin mixture.

4. Divide mixture between four serving dishes. Refrigerate until
set, about 3 hours

5. Pare and slice kiwis. Arrange kiwi slices and strawberries over
each dessert.